Product Description
Product Description

Specification
1, (PIV) continuously variable speed chain: pitch (15.3mm); Pitch (18.75mm); Pitch (19mm); Pitch (20.1mm);
pitch (25mm); Pitch (28.6mm); pitch (36mm); Pitch (44.4mm)
2, roller type continuously variable speed chain: pitch (12mm); pitch (13.3mm); Pitch (14mm); Pitch (16.2mm);
3, tooth chain: CL04, CL06, CL08, CL10, CL12, CL16, CL20, CL24; C4. CL06F; CL08F; 4 hawa chain: HV3; HV4; HV5;
HV6. HV8; : RPV3; RPV4; RPV6; RPV8; RPV12; KHO; KH3; KH4; KH5; KH6; KH8
Our company provide all type chain, such as hollow pin chain , double pitch conveyor chain , stainless steel roller chain ,
palm oil chain, forged chain ,sugar mill chain , agricultural machine chain , punshing window chain , motorcycle chain ,
drag chain, silent chain and so on.
Company Profile
HangZhou Terry Machinery Co.Ltd is a leading supplier of bearings, Linear motion system for CNC , Ball transfer
Unit and transmission component .the growing industrial and Favorable policy of HangZhou benefit the developm
ent of Terry Machinery .Our products are utilized in industrial, motorcycle, vehicle and Automation applications.
Now we are exporting to 46 countries. including USA, GBR , Germany , Spain, Poland ,Turkey ect .The Goal o
f Terry Machinery to provide out customers with widest range of products at competitive prices, backed with the
best Service.OUR ADVANTAGE Products Our major products & Supplied:Meet all the international standards
and ISO9001 -TS1694 Certificate Big volume in Stock, No MOQ required Personnel Our salespersons are well
trained to accommodate your requests and speak English for your conveniences.Our technicians and engineers
Experience in the Industry area exceeds 23 years Service &Quality control ,We supply detailed drawings and
offer when ever necessary,We help all customers promote and improve their sales.We inspect every piece of
products by ourselves before delivery.

production process

Application
related product
product-list-1.html
Packing &Delivery
Customer Praise
FAQ

| | |
| --- | --- |
| Standard Or Nonstandard: | Standard |
| Application: | Motor, Electric Cars, Motorcycle, Machinery, Marine, Toy, Agricultural Machinery, Car |
| Hardness: | Hardened Tooth Surface |
| Manufacturing Method: | Rolling Gear |
| Toothed Portion Shape: | Spur Gear |
| Material: | 45mn |
Samples:

US$ 40.00/Piece

1 Piece(Min.Order)

|
Request Sample
Can a silent chain be used in high-load applications?
Yes, a silent chain can be used in high-load applications due to its design and construction.
A silent chain, also known as an inverted-tooth chain or a silent synchronous chain, is designed to handle heavy loads and transmit high levels of torque.
Here are some factors that make silent chains suitable for high-load applications:
1. Robust Construction:
– Silent chains are constructed using high-strength materials, such as alloy steel, which provides excellent strength and durability.
– The chain plates and pins are designed to withstand heavy loads and resist deformation.
– This robust construction allows silent chains to handle high-load applications without compromising performance or reliability.
2. Tooth Engagement:
– Silent chains feature a unique tooth profile that ensures secure and precise engagement with the sprockets.
– The tooth design allows for maximum contact area between the chain and sprockets, distributing the load evenly and minimizing stress concentration.
– This tooth engagement mechanism enables the silent chain to transmit high levels of torque and handle heavy loads without slipping or skipping.
3. Load Distribution:
– Silent chains have multiple teeth engaging with the sprockets simultaneously.
– This design feature helps distribute the load across multiple teeth, reducing the stress on individual links and enhancing the overall load-carrying capacity.
– The load distribution capability of silent chains makes them well-suited for applications where high loads are present.
4. Fatigue Resistance:
– Silent chains are designed to resist fatigue failure even under repetitive high-load conditions.
– The materials and heat treatment processes used in their construction enhance their resistance to wear, fatigue, and elongation.
– This allows silent chains to maintain their performance and reliability over extended periods of heavy-load operation.
It's important to consider the specific load requirements and application conditions when selecting a silent chain for high-load applications.
– Consulting with experts or manufacturers can help determine the appropriate silent chain design and size to ensure reliable and efficient operation under high-load conditions.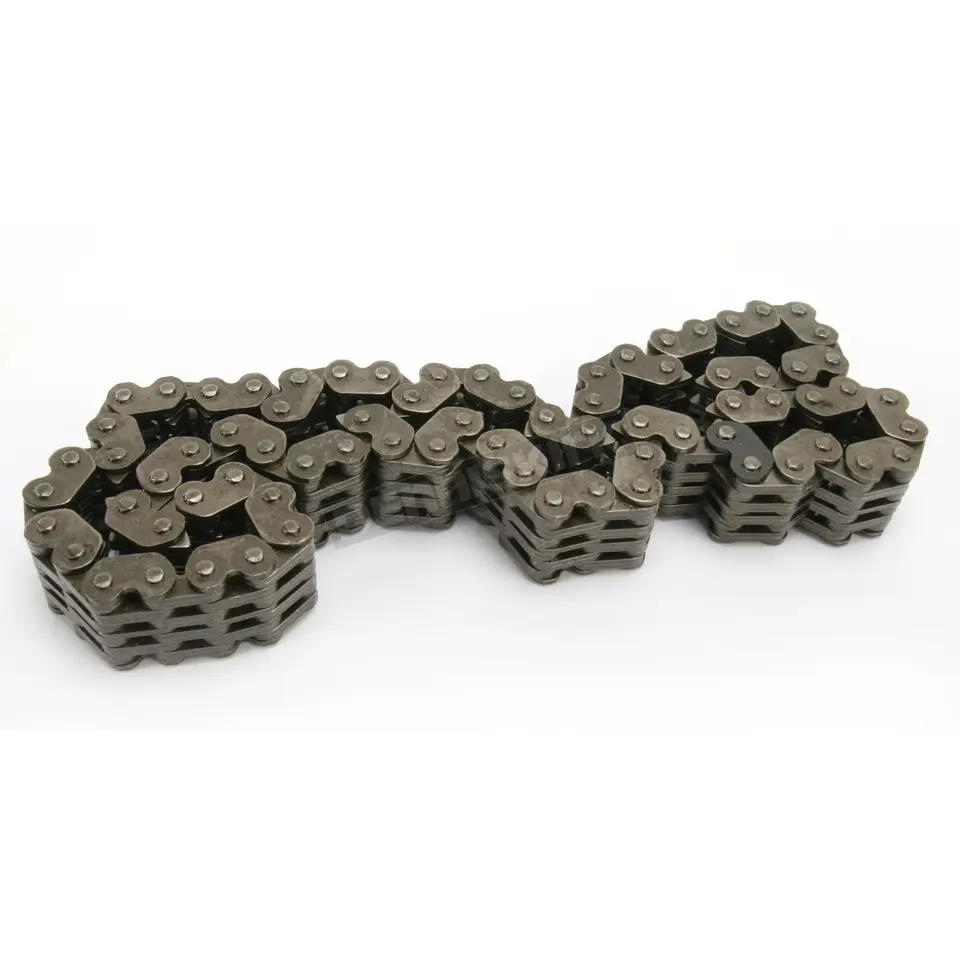 What are the benefits of using a self-lubricating silent chain?
Using a self-lubricating silent chain offers several advantages in terms of performance, maintenance, and overall cost-effectiveness. Here are some key benefits:
1. Reduced Maintenance: Self-lubricating silent chains are designed with built-in lubrication mechanisms, such as oil-impregnated materials or solid lubricants. This eliminates the need for external lubrication, resulting in reduced maintenance requirements and associated costs.
2. Improved Reliability: The self-lubricating feature ensures consistent and proper lubrication throughout the chain's operation. This helps reduce friction, wear, and heat generation, leading to improved chain reliability and extended service life.
3. Enhanced Performance: The continuous lubrication provided by self-lubricating chains helps maintain smooth and efficient power transmission. It reduces power losses due to friction, minimizes noise and vibration, and allows for higher operating speeds and loads.
4. Clean and Environmentally Friendly: Self-lubricating chains eliminate the need for external lubricants, resulting in a cleaner and more environmentally friendly operation. There is no risk of lubricant contamination or leakage, making them suitable for applications with strict cleanliness requirements, such as food processing or medical industries.
5. Cost Savings: The reduced maintenance and longer service life offered by self-lubricating chains contribute to cost savings over the chain's lifespan. There is no need for frequent lubrication, fewer replacement parts are required, and downtime for maintenance is minimized.
6. Easy Installation: Self-lubricating chains are typically pre-lubricated during the manufacturing process, making them ready for immediate installation. This simplifies the chain installation process and saves time and effort.
Overall, self-lubricating silent chains provide reliable, low-maintenance, and efficient power transmission solutions, making them suitable for a wide range of applications where reduced maintenance, improved performance, and cost savings are desired.
How does a silent chain differ from other types of chains?
A silent chain, also known as an inverted tooth chain or silent synchronous chain, differs from other types of chains in several ways:
1. Tooth Profile: Silent chains have a unique tooth profile compared to traditional roller chains or flat-top chains. The teeth of a silent chain are shaped like inverted "V" or "U," allowing for positive engagement with sprockets or pulleys.
2. Noise and Vibration: Silent chains are designed to operate quietly with minimal noise and vibration. The tooth profile and cushioning effect of the chain reduce the impact and noise generated during operation, making them suitable for applications where noise reduction is important.
3. Load Capacity: Silent chains offer high load-carrying capacity. The interlocking tooth design provides a larger contact area, enabling the chain to withstand heavy loads without sacrificing performance.
4. Speed and Position Control: Silent chains provide accurate speed and position control due to their positive engagement with sprockets or pulleys. This makes them ideal for applications that require precise timing and synchronization.
5. Backlash: Silent chains have minimal backlash, which refers to the play or movement between the teeth and sprockets/pulleys. This feature helps in maintaining precise motion control and reduces the risk of positioning errors or fluctuations.
6. Application Range: Silent chains are commonly used in power transmission systems that require quiet operation, high load capacity, and precise motion control. They are often found in automotive engines, industrial machinery, robotics, and other applications where reliable and efficient power transmission is essential.
It's important to note that while silent chains offer specific advantages, they may not be suitable for all applications. Factors such as load requirements, speed, environmental conditions, and specific application needs should be considered when selecting the appropriate chain type for a particular system.



editor by CX 2023-08-03