Product Description
Products Collection
Product Description
Our QLD series silent chain is a power transmission chain designed for high-speed and high-torque applications. It is known for its quiet operation, long life, and high efficiency. 
The chain features a high-strength construction that allows it to handle heavy loads and high speeds without stretching or breaking.
When you need a specific design, we can provide customised solutions based on what you need. Whether you require specific features, plans, materials, or specifications, our team can work to ensure you get a chain that fully meets your needs.
Are you looking for other chains? 
Leave your message below, and feel free to contact us!
FAQ
Question 1: Are you a Manufacturer or a Trading Company?
Answer:
We are a 100% chain manufacturer with 23 years of experience
Question 2: What should I provide to get a quotation?
Answer:
1. Type of the chain (with photos if available)
2. Pitch of the chain
3. Width of the chain
4. Length and quantity of the chain
5. Other specific requirements
Question 3:
How long is your manufacturing and delivery time?
Answer: 
Products are usually finished in 2 weeks, depending on the type and quantity. Also, please get in touch with us to check the delivery time to your destination.
Question 4: How long is your guaranteed time?
Answer: 
We offer a three-year guarantee if you purchase chains and matched sprockets together.
If you need chains only, a one-year guarantee can also be confirmed.
Question 5: Trade terms and Payment terms?
Answer:
We accept EXW, FOB, DDU, Door to Door. Payment terms, such as T/T, L/C, and Western Union, are acceptable. We also provide the service of Online Trading in this B2B platform.
Company Profile
Shipping Cost:

Estimated freight per unit.





To be negotiated
| | |
| --- | --- |
| Standard or Nonstandard: | Standard |
| Application: | Textile Machinery, Garment Machinery, Conveyer Equipment, Packaging Machinery, Food Machinery, Marine, Mining Equipment, Agricultural Machinery |
| Structure: | Tooth Chain |
Samples:

US$ 100/Meter

1 Meter(Min.Order)

|

Order Sample
Customization:

Available

|

Customized Request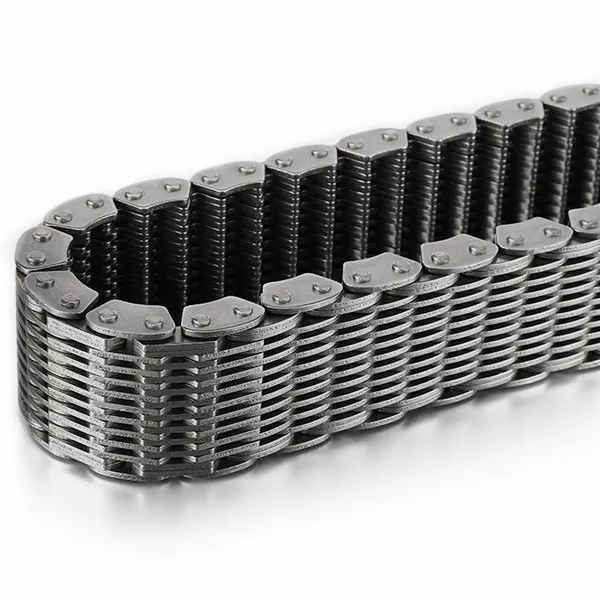 How do you prevent wear and elongation in a silent chain?
To prevent wear and elongation in a silent chain, several measures can be taken:1. Proper Lubrication:- Regular and appropriate lubrication is essential to minimize friction and wear in the chain.- Lubricating the chain reduces friction between the pins, bushings, and rollers, preventing excessive wear.- Consult the manufacturer's recommendations for the appropriate lubricant type and frequency of lubrication.2. Correct Tensioning:- Maintaining proper tension in the silent chain is crucial to prevent excessive elongation.- Ensure that the chain is correctly tensioned according to the manufacturer's guidelines.- Over-tensioning can increase stress and wear, while under-tensioning can result in excessive elongation.3. Avoiding Overloading:- Silent chains have specified load capacities, and exceeding these limits can lead to accelerated wear and elongation.- Avoid subjecting the chain to excessive loads beyond its design capacity.4. Regular Inspection:- Conduct regular inspections of the silent chain to identify any signs of wear or elongation.- Look for indications such as elongated pitch, excessive chain slack, or visible signs of damage.- Promptly replace any worn-out or damaged components to prevent further wear and elongation.5. Selecting the Right Chain Material:- Choosing a silent chain made from high-quality materials that offer good wear resistance can help prevent premature wear and elongation.- Consider the specific application requirements, such as temperature, chemicals, and abrasion, when selecting the chain material.6. Proper Installation:- Ensure the silent chain is installed correctly, following the manufacturer's instructions.- Improper installation can introduce additional stress and contribute to accelerated wear and elongation.By implementing these preventive measures, you can significantly reduce wear and elongation in a silent chain, ensuring its longevity and optimal performance.
How do you properly tension a silent chain?
Tensioning a silent chain correctly is essential for its optimal performance and longevity. Here are the steps to properly tension a silent chain:
1. Determine the Tensioning Method: Silent chains can be tensioned using either an adjustable tensioner or a fixed-position tensioner. The appropriate method depends on the specific chain design and the manufacturer's recommendations.
2. Set the Initial Tension: The initial tension should be set according to the manufacturer's guidelines or specifications. This typically involves applying a specific force or deflection to the chain to achieve the desired initial tension.
3. Allow for Break-In: After installing the chain and setting the initial tension, it is important to allow the chain to run for a break-in period. During this time, the chain will settle and stretch slightly, so it's crucial to recheck and readjust the tension after the break-in period.
4. Monitor and Adjust Tension: Regularly monitor the tension of the silent chain during operation. Over time, chains may experience wear or elongation, which can affect tension. Use appropriate tension measurement tools, such as tension gauges or deflection measurement methods, to check the tension periodically. If the tension deviates from the recommended range, adjust it accordingly.
5. Follow Manufacturer's Recommendations: Always refer to the manufacturer's guidelines and recommendations for tensioning the specific type of silent chain you are using. Each chain design may have unique requirements, so it's crucial to follow the manufacturer's instructions for optimal performance and chain life.
Proper tensioning ensures that the silent chain operates smoothly, minimizes wear, and prevents issues such as excessive noise, vibration, or premature failure. By following the manufacturer's guidelines and regularly checking and adjusting the tension, you can maintain the chain's performance and maximize its service life.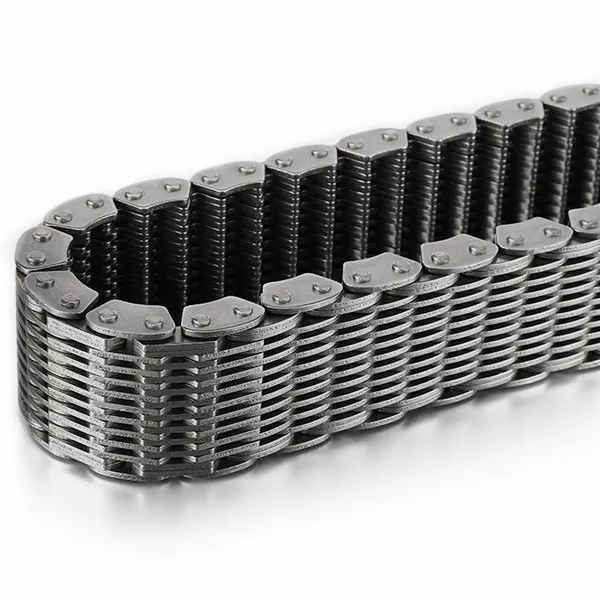 How do you select the right silent chain for your application?
When selecting the right silent chain for your application, several factors need to be considered to ensure optimal performance and reliability. Here are some key considerations:
1. Load Capacity: Evaluate the maximum load that the silent chain needs to transmit. Consider factors such as weight, acceleration, and shock loads to determine the appropriate load capacity.
2. Speed and RPM: Determine the required operating speed and RPM of the silent chain. This will help in selecting a chain that can handle the desired speed without compromising performance or durability.
3. Environmental Conditions: Assess the operating environment, including temperature, humidity, exposure to chemicals, and presence of contaminants. Choose a silent chain with materials and coatings that offer suitable resistance to corrosion, wear, and other environmental factors.
4. Alignment and Tensioning: Consider the alignment and tensioning requirements of the silent chain in your application. Some chains may require special alignment or tensioning devices to ensure proper performance and longevity.
5. Application-specific Requirements: Evaluate any specific requirements of your application, such as noise reduction, maintenance intervals, and operating life. Select a silent chain that meets these specific needs.
6. OEM Recommendations: Consult the original equipment manufacturer (OEM) guidelines or recommendations for silent chain selection. They may provide valuable insights into the ideal chain specifications for your particular application.
7. Quality and Reliability: Choose a reputable supplier or manufacturer that offers high-quality silent chains. Consider factors such as material quality, manufacturing processes, and product certifications to ensure reliability and durability.
By considering these factors and consulting with experts, you can select the right silent chain that meets the demands of your application, ensuring efficient and reliable power transmission.




editor by CX 2023-07-18