Product Description
Product Description
1. The leaf chain shall conform to ISO, BS, JS and other standards
2. Mainly BL, AL, LL, FL series leaf chains
3. Our customized leaf chain service can be provided according to customer requirements
4. The blade chain is made of high-quality materials and adopts heat treatment technology
5. The products are widely used in forklifts, textile machinery, drilling rigs, etc. to achieve vertical lifting, horizontal traction and other purposes.
Product Attribute
Usage

Leaf Chain ,Flyer chain
 

Material

Alloy/Carbon Steel
 

Application industry
Metallurgy, coal, electricity, food, chemical industry, tobacco, beverage, etc
 

Surface Treatment

Self-color Sand-blasted Shot-peening
 
Product Series

 

AL,BL ,LL,FL,LH

Port

Any sea port or airport in China
 

Brand
TV OEM
Payment

L/C, T/T, D/P, Western Union
 

Package

Chain, Plastic Bag, Color Box, Wooden Case. or OEM
 

AL Series

AL322,AL344,AL422,AL444,AL466,AL522,AL534,AL544,AL566,AL622,AL644,AL666,AL688

AL822,AL844,AL866,AL888,AL1571,AL1044,AL1066,AL1088,AL1222,AL1244,AL1266,AL1288

AL1444,AL1466,AL1644,AL1666,AL1688
 

BL Series
BL422,BL423,BL434,BL444,BL446,BL488,BL522,BL523,BL534,BL544,BL546,BL566,BL588

BL622,BL623,BL634,BL644,BL646,BL688,BL822,BL823,BL834,BL844,BL846,BL866,BL888

BL1571,BL1571,BL1034,BL1044,BL1046,BL1088,BL1222,BL1223,BL1234,BL1244,BL1246

BL1266,BL1288,BL1422,BL1423,BL1434,BL1444,BL1446,BL1488,BL1622,BL1623,BL1634

BL1644,BL1646,BL1666,BL1888,BL2571,BL2571,BL2034,BL2044,BL2046,BL2088
 

LL Series
LL0622,LL0644,LL0666,LL0822,LL0844,LL0866,LL 0571 ,LL1571,LL1044,LL1066,LL1088,LL1222

LL1244,LL1266,LL1288,LL1622,LL1644,LL1666,LL1688,LL2571,LL2044,LL2066,LL2088,LL2422

LL2444,LL2466,LL2488,LL2822,LL2844,LL2866,LL2888,LL3222,LL3244,LL3266,LL3288,LL4571

LL4044,LL4066,LL4088,LL4822,LL4844,LL4866,LL4888
 

LH Series
LH0822,LH0823,LH571,LH0844,LH0846,LH0866,LH 0571 ,LH1571,LH1571,LH1034,LH1044

LH1046,LH1066,LH1088,LH1222,LH1223,LH1234,LH1244,LH1246,LH1266,LH1288,LH1622

LH1623,LH1634,LH1644,LH1646,LH1666,LH1688,LH2571,LH2571,LH2034,LH2044,LH2046

LH2066,LH2088,LH2422,LH2423,LH2434,LH2444,LH2446,LH2466,LH2488,LH2822,LH2823

LH2834,LH2844,LH2846,LH2866,LH2888,LH3222,LH3223,LH3234,LH3244,LH3246,LH3266

LH3288,LH4571,LH4571,LH4034,LH4044,LH4046,LH4066,LH4088
 

FL Series
FL644,FL666,FL688,FL523,FL844,FL922,FL944,FL945,FL956,FL966,FL988
 
We also carry out OEM according to your requirements
 
Detailed Photos
Product Parameters
Company Advantages:
Own Import & Export License, The TV trade mark registered successfully in many countries, Sales network spread all over China, Products export to 65 countries in 5 continents.
Membership:
1. The member of China General Machine Components Industry Association.
2. The member of China Chain Transmission Association.
3. The member of China Chain Standardization Association.
4. The member of China Agricultural Association Machinery Manufacturers.
With our excellent trained staffs and workers, advanced and efficient equipments, completely sales network, strict QA systems. You are confidence that our premium qualified chain can meet all customers' specification and strictest quality standards.
Please do not hesitate to contact us for more information on how TransVision products can meet your industries demands at highly competitive pricing.
Quality First, Clients Uppermost.
Product Categories
WHY CHOOSE US
Comprehensive Product Portfolio We produce and supply a wide range of power transmission
products including drive chains, leaf chains, conveyor chains, agricultural chains, sprockets, and
couplings. This one-store-for-all shopping experience will significantly reduce your searching costs while
guarantee youfind what you want at 1 click.
Value Choice Products Our products are the best combination of quality and price, and you get what
you want within your budgets
Seasoned Sales Associates and Engineers We have 15 seasoned sales associates and 5 engineers;
on our team at your disposal any time when you need a helping hand. They are well trained with industry
know-now and will always respond to your requests within 24 hours.
100% Customer Retention Rate Our regular customers from overseas come back not just for our
premium quality products, but for the superior services that we've provided over the years.
FAQ
Q1: What's your average lead time?
A: It varies. Our regular end-to-end lead time is 1-2 months.. We also provide express shipments for rush orders. For details,please consult our sales associate.
Q2: Is your price better than your competitors given the same quality?
A: Definitely YES. We provide the most competitive price in the power transmission industry. If price disparity exists, we'll be more than happy to do a price match.
Q3: Can you make chains according to my CAD drawings?
A: Yes. Besides the regular standard chains, we produce non-standard and custom-design products to meet the specific technical requirements. In reality, a sizable portion of our production capacity is assigned to make non-standard products.
Q4: Can we inspect the goods before shipment?
A: Yes. You or your representative or any third-party inspection party assigned is allowed access to our facility and do the inspection.
Q5: What kind of payment method is acceptable for your mill?
A: We're flexible. We take T/T, L/C, or any other online payment methods so long as it's applicable for you.
Q6: What if I have any other questions?
A: Whenever in doubt, you're always encouraged to consult our sales associate any time – They will help you to your satisfaction.
Shipping Cost:

Estimated freight per unit.





To be negotiated
| | |
| --- | --- |
| Usage: | Transmission Chain |
| Material: | Stainless steel |
| Surface Treatment: | Polishing |
Customization:

Available

|

Customized Request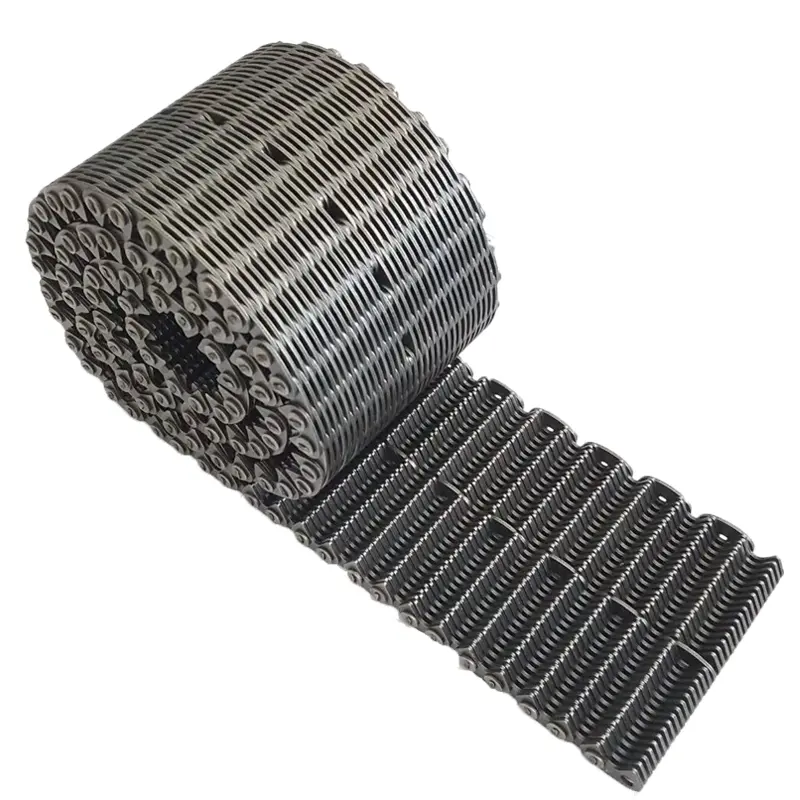 What are the benefits of using a plastic silent chain?
Using a plastic silent chain offers several benefits for various applications:
1. Lightweight and Durable:
– Plastic silent chains are typically lightweight, making them ideal for applications where weight reduction is crucial.
– Despite their lightweight nature, plastic chains are durable and resistant to wear, allowing for long-lasting performance.
2. Corrosion Resistance:
– Plastic chains are inherently resistant to corrosion, making them suitable for applications in corrosive environments.
– They can withstand exposure to chemicals, moisture, and other corrosive substances without degradation.
3. Low Friction and Lubrication-Free:
– Plastic chains have low friction characteristics, reducing energy consumption and contributing to improved efficiency.
– Some plastic chains are self-lubricating, eliminating the need for additional lubrication and reducing maintenance requirements.
4. Noise Reduction:
– Plastic silent chains operate quietly, reducing noise levels in the application environment.
– Their smooth and precise operation reduces vibration and noise generation.
5. Design Flexibility:
– Plastic chains offer design flexibility, allowing for customization to meet specific application requirements.
– They can be easily modified or molded into various shapes and sizes, enabling efficient integration into different systems.
6. Cost-Effective:
– Plastic chains are often more cost-effective compared to other materials, providing an economical solution without compromising performance.
– Their long service life and minimal maintenance requirements contribute to overall cost savings.
7. Chemical and Heat Resistance:
– Certain plastic materials used in silent chains exhibit excellent resistance to chemicals, oils, and high temperatures.
– This makes them suitable for applications where exposure to harsh chemicals or elevated temperatures is common.
It's important to note that the specific benefits of using a plastic silent chain may vary depending on the material composition and the intended application.
– Proper selection of the plastic material and considering the application requirements are essential to ensure optimal performance and longevity of the chain.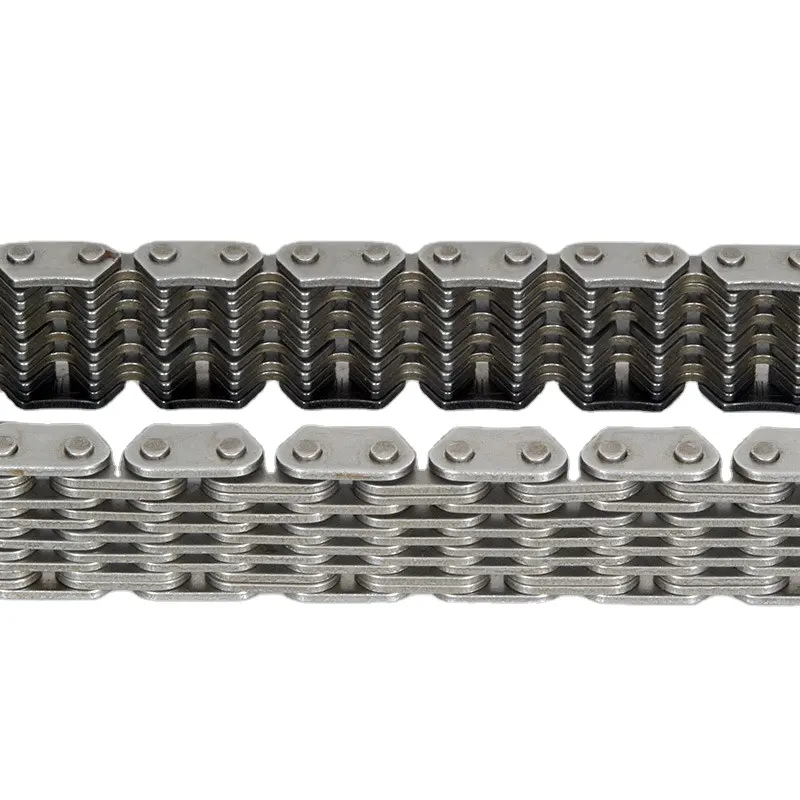 Can a silent chain be repaired or does it need to be replaced entirely?
When a silent chain is damaged or worn, the extent of the damage and the overall condition of the chain will determine whether it can be repaired or needs to be replaced entirely. Here are some considerations:
1. Minor Damage:
– If the silent chain has minor damage, such as a few worn or damaged links, it may be possible to repair it by replacing those specific links. This can be done by removing the damaged links and installing new ones.
– Additionally, if the chain has minor issues like loose pins or misalignment, these can often be corrected through proper adjustments and alignment.
2. Extensive Damage:
– If the silent chain has extensive damage, such as significant elongation, excessive wear, or multiple damaged links, it may be more cost-effective and practical to replace the entire chain.
– Extensive damage can compromise the performance and integrity of the chain, making repairs less reliable and potentially leading to further issues down the line.
3. Manufacturer Recommendations:
– It's important to consult the manufacturer's guidelines and recommendations regarding repairs. They will provide insights into the repairability of their specific silent chain models and offer guidance on when replacement is necessary.
– Manufacturers may provide repair kits or replacement parts for specific chain components, enabling repairs for certain types of damage.
4. Professional Evaluation:
– In cases where the extent of the damage is uncertain or if the silent chain plays a critical role in the application, it is advisable to seek a professional evaluation.
– A qualified professional can assess the condition of the silent chain, determine if repairs are feasible, and provide recommendations on the best course of action.
Ultimately, the decision to repair or replace a silent chain will depend on the severity of the damage, the cost-effectiveness of repairs, and the manufacturer's recommendations. It's essential to prioritize safety and consider the long-term performance and reliability of the conveyor system when making this decision.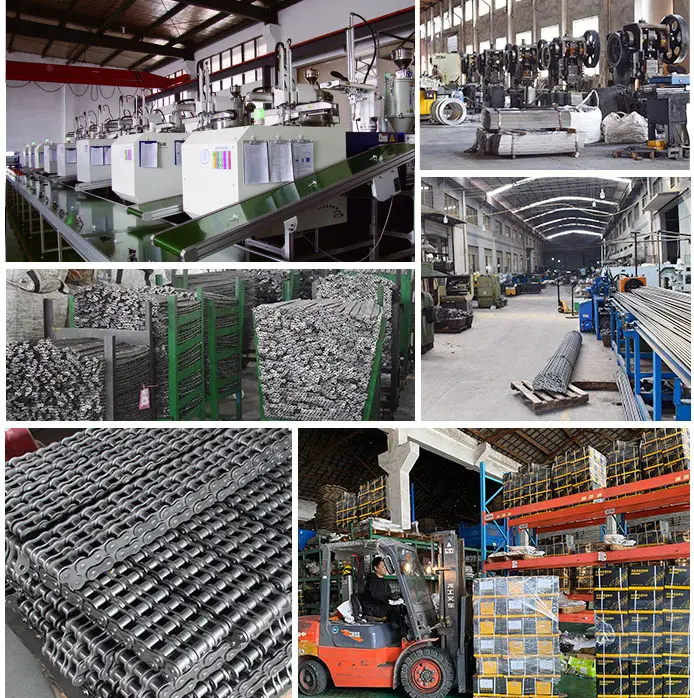 What industries commonly use silent chains?
Silent chains, also known as inverted tooth chains or silent synchronous chains, are utilized in various industries where reliable power transmission and precise motion control are required. Some of the industries that commonly use silent chains include:
1. Automotive: Silent chains are widely employed in automotive applications, such as engines and timing systems, where accurate timing, low noise, and high durability are critical.
2. Industrial Machinery: Many types of industrial machinery, including printing presses, packaging machines, and textile machinery, rely on silent chains for their power transmission needs due to their ability to handle high loads and provide precise motion control.
3. Robotics: Silent chains play a significant role in robotics, where precise movement and synchronization are essential. They are used in robotic arms, pick-and-place systems, and other robotic applications.
4. Aerospace: In the aerospace industry, silent chains are utilized in various applications, such as aircraft engines, auxiliary power units, and flight control systems, where reliable power transmission and minimal noise are crucial.
5. Food and Beverage: Silent chains find applications in the food and beverage industry, particularly in processing and packaging equipment. Their low noise operation and ability to withstand washdown conditions make them suitable for these environments.
6. Medical: Silent chains are used in medical equipment and devices that require precise motion control, such as imaging systems, laboratory automation, and surgical robots.
7. Material Handling: Silent chains are employed in material handling equipment, including conveyors, lifts, and automated storage systems, to ensure reliable power transmission and accurate positioning.
These are just a few examples, and silent chains may be found in various other industries where their unique characteristics and performance advantages are beneficial for specific applications.



editor by CX 2023-08-18