Product Description
We have All Spare Parts for KOREA,America,German, and Japan Cars, and also series parts for different cars.
High quality products Original, Made in ZheJiang , Made in China Mainland, 6000+ square CHINAMFG warehouse, many parts in stock.
Please feel free to contact and know more.
Informations
1.Item Name:
Timing Chain
2.OEM.NO.:
24321-25000
3.Suitable for:
 Hyundai Sonata 2.4 06-10 Tucson 1.0 11-13 G4KD 2.0L G4KE 2.4L G4KC
4. Delivery Time:
Normally Within 1-15 days after deposit or as customers' requirement, depend on stock
5.Advantages:
1. Factory direct,Original quality and lower price.
2. Most of the items in stocks,we can send the items to you in a short time.
3. Sincere service,if any problem after you recieved the goods,please contact us freely,the best solution will be offered.
Detailed Photo
Guest evaluation
Good feedback from customers is the highest recognition of our products. With the development of made in China, suppliers always describe their products with the best quality, but I think the best products come from the recognition of customers.
A good evaluation, across the distance between different countries, to enhance our mutual trust and feelings. Really good cooperation is mutual understanding and tolerance, just like the friendship between China and other countries.
I also hope to have an opportunity to cooperate with you. Just like the evaluation given to me by my guests, I believe you will also have a good harvest and profit.
Related Products
In order to ensure sufficient demand for guests, we produce all models of chains. What you need to do is to provide us with accurate numbers and pictures. I can make the same chain for you.
Work Shop
Our production workshop covers an area of more than 6000 square meters, more than 200 machines and more than 30 kinds of development and testing equipment. And the professional management and production level in ZheJiang –Real original factory in China
Quality Control
Each of our chains will undergo strict 100% manual test, machine test and anti rust treatment. Only through strict testing can we do a better quality assurance and let guests trust our products more.
Customers Endorsements & Exhibition
Guests from various countries had come to visit my factory and are very satisfied with our production level and chain. They have maintained a good cooperative relationship for many years. We also participate in ZheJiang Frankfurt Auto Parts Exhibition and HangZhou Exhibition and so on.Every time we have new guests and new cooperation.
Packaging
As for packaging, we will customize or conventional packaging according to customers' requirements.                    P. E bag + (antirust paper )+ box+Carton
Our Certificate
 
Our products have passed ISO 9001 and ISO 14001 certification,and Made-in-China strength factory certification
FAQ
Q1: How many years are your company in the autoparts industry?
A: The company has been founded for 20 years till now.
Q2: What are your major products?
A: Our main products are all kinds of Transfer Case Chain&Timing Chain
Q3: Where are your company?
A: We are located in HangZhou City,HangZhou City,ZheJiang Province, China.
Q4: Are you a factory or trading company?
A: We are a real factory with export licenses.
Q5: What is the MOQ?
A: Normaly, our MOQ is 100pcs ,but different product may have the different MOQ.
Q6:How about the quality of your sensors?
A: Our products have got the ISO9001 Certification. OEM Standard is also welcome and could be
fulfilled. Every item will be tested before shipment. You are very welcome to visit our factory at your convenience.
Q7:How about the warrenty of your sensors?
A: All of our sensors are with warrenty of 1 year, for some sensors the warrenty could be extented to 2 years.
Q8: What is the payment terms?
A: 30% deposit before production,70% balance before shipment.
Q9: Can your company customize sensors?
A: YES! You are very welcome to customize sensors, but it is strongly recommended to provide samples.
| | |
| --- | --- |
| After-sales Service: | Great |
| Warranty: | 2years |
| Type: | Auto Belt |
| Material: | Steel |
| Certification: | ISO |
| Automatic: | Automatic |
Customization:

Available

|

Customized Request
What are the environmental considerations when using a silent chain?
When using a silent chain in various applications, there are several environmental considerations to take into account:
1. Temperature:
– Silent chains are designed to operate within specific temperature ranges. It's important to ensure that the operating temperature of the environment remains within the chain's specified limits.
– High temperatures can affect the lubrication properties and the integrity of the chain material, leading to accelerated wear and reduced performance.
2. Moisture and Humidity:
– Moisture and humidity can cause corrosion and rusting of the silent chain, impacting its performance and longevity.
– In wet or humid environments, it's crucial to select a chain that is resistant to corrosion or consider additional protective measures such as coatings or regular maintenance.
3. Contaminants:
– The presence of contaminants such as dust, dirt, chemicals, or abrasive particles in the working environment can affect the silent chain's performance.
– These contaminants can accelerate wear, increase friction, and lead to premature chain failure.
– Regular cleaning and maintenance practices should be implemented to remove any accumulated contaminants and keep the chain operating optimally.
4. Chemical Exposure:
– Depending on the application, silent chains may come into contact with various chemicals or substances that can degrade the chain material or lubrication.
– It is important to select a chain that is resistant to the specific chemicals present in the environment or take appropriate measures to protect the chain from chemical exposure.
5. Noise and Vibration:
– Silent chains are designed to operate quietly, minimizing noise and vibration.
– However, in certain environments, noise and vibration can still be a concern. It's important to assess and mitigate any excessive noise or vibration levels to ensure a safe and comfortable working environment.
6. Regulatory Compliance:
– Depending on the industry and application, there may be specific environmental regulations and standards that need to be adhered to.
– Ensure that the selected silent chain and its associated components comply with the relevant environmental regulations and standards.
By considering these environmental factors and selecting a silent chain that is appropriate for the specific operating conditions, you can enhance the performance, reliability, and lifespan of the chain while minimizing the impact on the environment.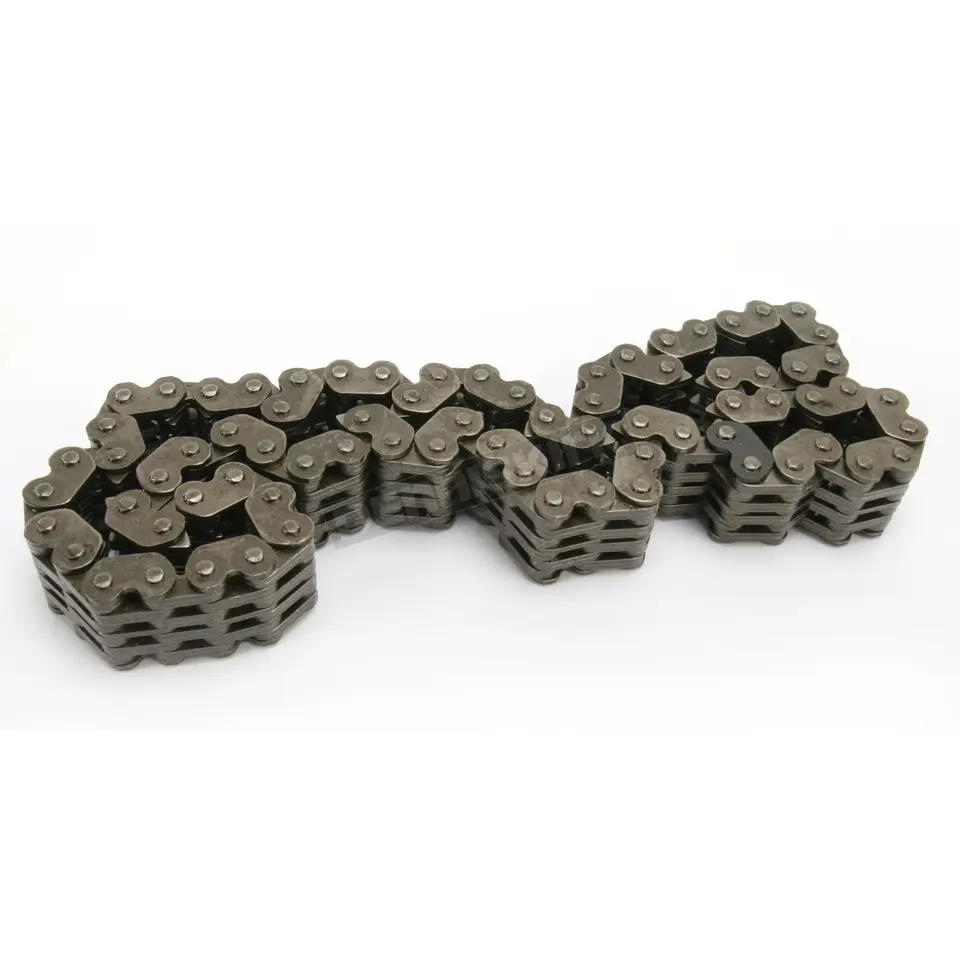 What are the benefits of using a self-lubricating silent chain?
Using a self-lubricating silent chain offers several advantages in terms of performance, maintenance, and overall cost-effectiveness. Here are some key benefits:
1. Reduced Maintenance: Self-lubricating silent chains are designed with built-in lubrication mechanisms, such as oil-impregnated materials or solid lubricants. This eliminates the need for external lubrication, resulting in reduced maintenance requirements and associated costs.
2. Improved Reliability: The self-lubricating feature ensures consistent and proper lubrication throughout the chain's operation. This helps reduce friction, wear, and heat generation, leading to improved chain reliability and extended service life.
3. Enhanced Performance: The continuous lubrication provided by self-lubricating chains helps maintain smooth and efficient power transmission. It reduces power losses due to friction, minimizes noise and vibration, and allows for higher operating speeds and loads.
4. Clean and Environmentally Friendly: Self-lubricating chains eliminate the need for external lubricants, resulting in a cleaner and more environmentally friendly operation. There is no risk of lubricant contamination or leakage, making them suitable for applications with strict cleanliness requirements, such as food processing or medical industries.
5. Cost Savings: The reduced maintenance and longer service life offered by self-lubricating chains contribute to cost savings over the chain's lifespan. There is no need for frequent lubrication, fewer replacement parts are required, and downtime for maintenance is minimized.
6. Easy Installation: Self-lubricating chains are typically pre-lubricated during the manufacturing process, making them ready for immediate installation. This simplifies the chain installation process and saves time and effort.
Overall, self-lubricating silent chains provide reliable, low-maintenance, and efficient power transmission solutions, making them suitable for a wide range of applications where reduced maintenance, improved performance, and cost savings are desired.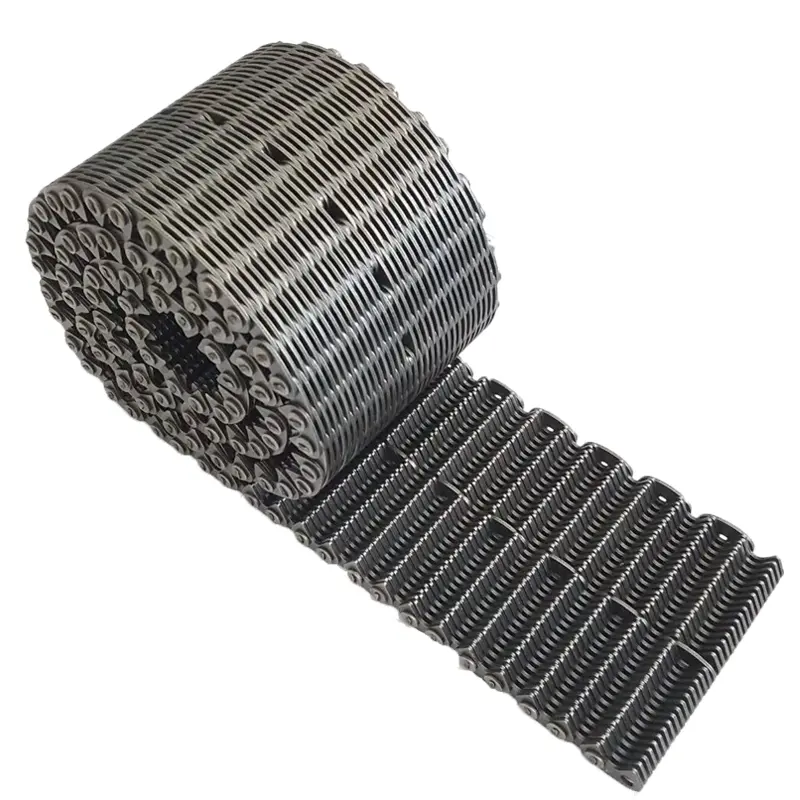 What are the main components of a silent chain?
A silent chain, also known as an inverted tooth chain or silent synchronous chain, consists of several key components that work together to transmit power efficiently and smoothly. The main components of a silent chain include:
1. Plates: The plates are the main links in the chain and are typically made of high-quality alloy steel. These plates have a unique shape with inverted teeth on both sides that engage with the sprockets.
2. Pins: The pins connect the plates together and provide flexibility for the chain to articulate. They are made of hardened steel and are precisely positioned within the chain links.
3. Bushings: The bushings are cylindrical components that fit inside the plates and provide a bearing surface for the pins. They are typically made of bronze or other self-lubricating materials to reduce friction and wear.
4. Sprockets: The sprockets are toothed wheels that engage with the inverted teeth on the chain plates. They provide the driving force and control the movement of the chain. The sprockets are precisely designed to match the pitch and tooth profile of the silent chain.
5. Tensioners: Tensioners are used to maintain proper tension in the silent chain. They ensure that the chain stays engaged with the sprockets and prevent slack or excessive tension that could affect the performance and lifespan of the chain.
6. Guides: Guides are optional components that are used to guide the silent chain and keep it properly aligned. They help reduce noise, vibration, and wear by preventing the chain from contacting other surfaces.
These components work together to form a reliable and efficient power transmission system. The precise design and manufacturing of these components contribute to the smooth and silent operation of the chain.



editor by CX 2023-09-19