Product Description
Precision Flank Contact and Croch Contact Silent Chain
Flank contact silent chains: CL06, CL08, CL10, CL12, CL16, CL20, CL24 Croch contact silent chans: C4-120, C4-123, C4-129, C4-132, C4-138, C4-150, C4-320, C4-323, C4-329, C4-332, C4-338
Products are made of high quality alloy steel production. The plates are punched and squeezed bores by precision technology. The pin, bush, roller are machined by high-efficiency automatic equipment and automatic grinding equipment, then through heat treatment of carburization, carbon and nitrogen protection mesh belt furnace, surface blasting process etc. Assembled precision by Internal hole position, spin riveted by pressure to ensure the performance of the entire chain.
Specifications
Technique Treatment
1
Shot Peening
8
Quenching
2
Bluing
9
Tempering
3
Phosphate
10
Oiling
4
Nickel-plated
11
Greasing
5
Zincing
12
Special color
6
Heat Treatment
13
Stain proofing
7
Carburizing
14
Pre-stretched and anti-fatigue
 Our Services
1. Any of your kind inquiry of chains would be replied within 24 hours.
2. Well-trained and experienced sales staffs will reply all your concerns in fluent English.
3. OEM services are available with us, our professional designer would make your private idea into being.
4. Protection of your sales area, ideas of design and all your private information.
5. Delivery by air mail or ship for your orders.
Why choose us
1. We are the manufacture.
2. We have near 30 years experience of making chains and chain links.
3. Our design team has extensive experience in the chain design.
4. Best service and prompt delivery.
5. We offer various styles, size and colors to meet your requirement.
6. We covering a production area of 18750 square CZPT have more than 100 employees and we have a complete set of testing equipment to ensure our quality.
| | |
| --- | --- |
| Usage: | Transmission Chain |
| Material: | Alloy/Carbon Steel |
| Surface Treatment: | Polishing/Oxygenation |
| Feature: | Oil Resistant |
| Chain Size: | Cl06, Cl08, Cl10, Cl12, Cl16, Cl20, Cl24 |
| Structure: | Tooth Chain |
Samples:

US$ 12/Meter

1 Meter(Min.Order)

|
Request Sample
Customization:

Available

|

Customized Request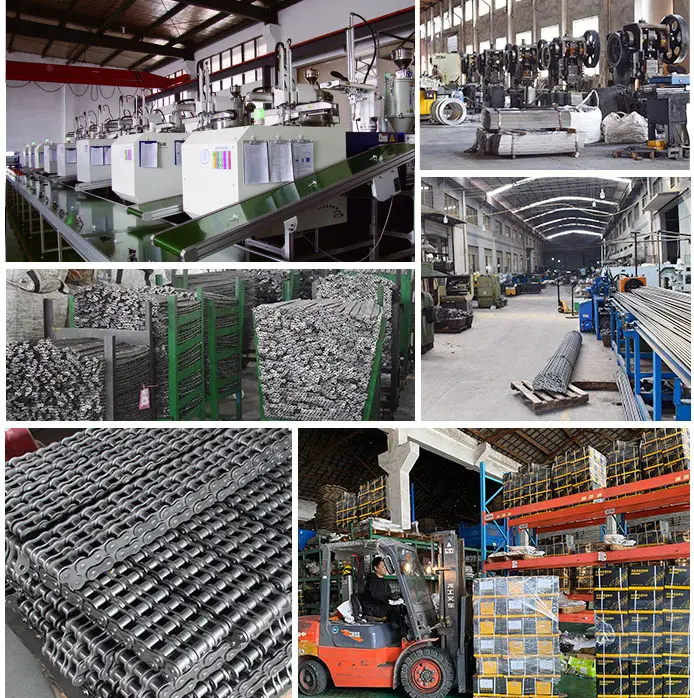 What are the noise levels associated with a silent chain?
The noise levels associated with a silent chain are generally lower compared to other types of power transmission systems.
Due to their unique tooth design and engagement mechanism, silent chains operate with reduced noise and vibration.
Here are some factors that contribute to the low noise levels of a silent chain:
1. Tooth Profile:
– Silent chains feature an inverted-tooth profile with rounded edges and precise tooth spacing.
– This design helps minimize impact and noise during tooth engagement with the sprockets, resulting in quieter operation.
2. Smooth Operation:
– The even distribution of load across multiple teeth and the consistent meshing between the chain and sprockets contribute to smooth and silent operation.
– The smooth movement of the silent chain reduces friction and noise generation.
3. Dampening Properties:
– Silent chains often incorporate materials or coatings that help dampen vibrations and reduce noise.
– These dampening properties further contribute to a quieter operating environment.
While silent chains offer lower noise levels compared to other chain types, it's important to note that the overall noise level also depends on other factors such as the surrounding equipment, lubrication, and maintenance practices.
– Proper lubrication and regular maintenance can help minimize noise levels and ensure optimal performance of the silent chain.
– Additionally, implementing noise reduction measures such as using noise-absorbing materials or installing sound insulation can further reduce the overall noise associated with a silent chain.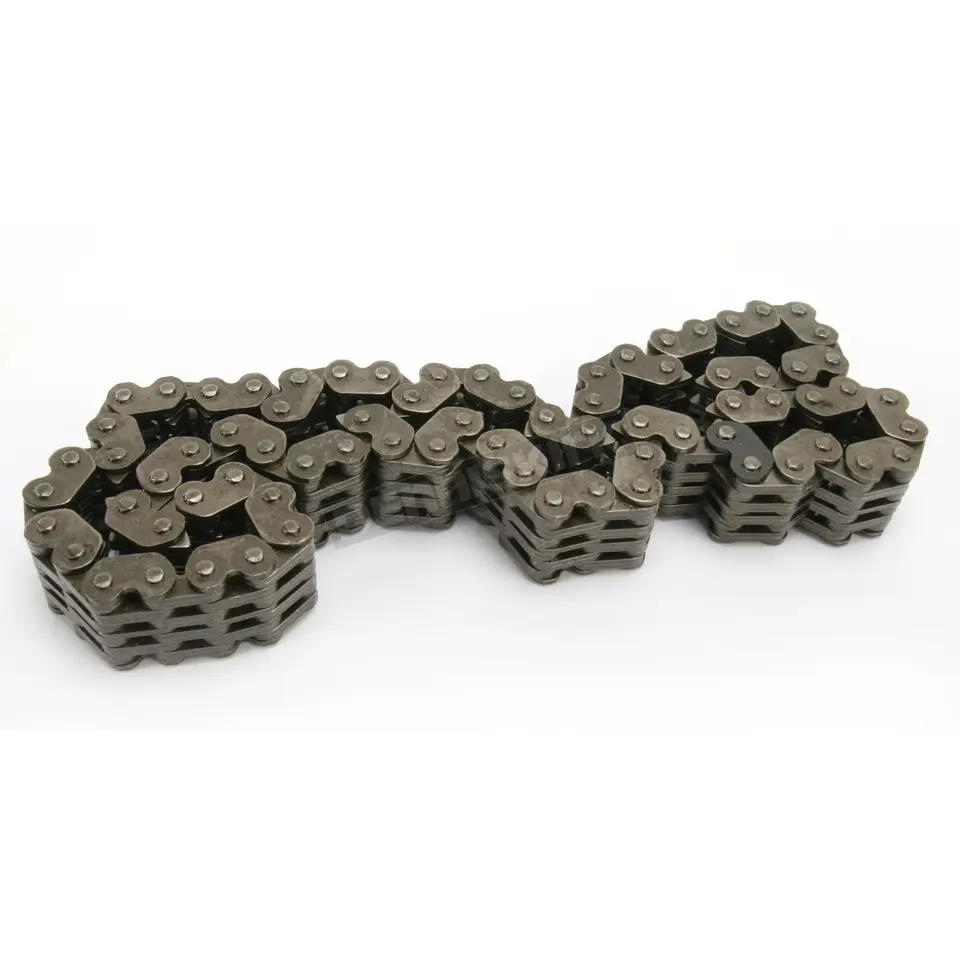 What are the benefits of using a self-lubricating silent chain?
Using a self-lubricating silent chain offers several advantages in terms of performance, maintenance, and overall cost-effectiveness. Here are some key benefits:
1. Reduced Maintenance: Self-lubricating silent chains are designed with built-in lubrication mechanisms, such as oil-impregnated materials or solid lubricants. This eliminates the need for external lubrication, resulting in reduced maintenance requirements and associated costs.
2. Improved Reliability: The self-lubricating feature ensures consistent and proper lubrication throughout the chain's operation. This helps reduce friction, wear, and heat generation, leading to improved chain reliability and extended service life.
3. Enhanced Performance: The continuous lubrication provided by self-lubricating chains helps maintain smooth and efficient power transmission. It reduces power losses due to friction, minimizes noise and vibration, and allows for higher operating speeds and loads.
4. Clean and Environmentally Friendly: Self-lubricating chains eliminate the need for external lubricants, resulting in a cleaner and more environmentally friendly operation. There is no risk of lubricant contamination or leakage, making them suitable for applications with strict cleanliness requirements, such as food processing or medical industries.
5. Cost Savings: The reduced maintenance and longer service life offered by self-lubricating chains contribute to cost savings over the chain's lifespan. There is no need for frequent lubrication, fewer replacement parts are required, and downtime for maintenance is minimized.
6. Easy Installation: Self-lubricating chains are typically pre-lubricated during the manufacturing process, making them ready for immediate installation. This simplifies the chain installation process and saves time and effort.
Overall, self-lubricating silent chains provide reliable, low-maintenance, and efficient power transmission solutions, making them suitable for a wide range of applications where reduced maintenance, improved performance, and cost savings are desired.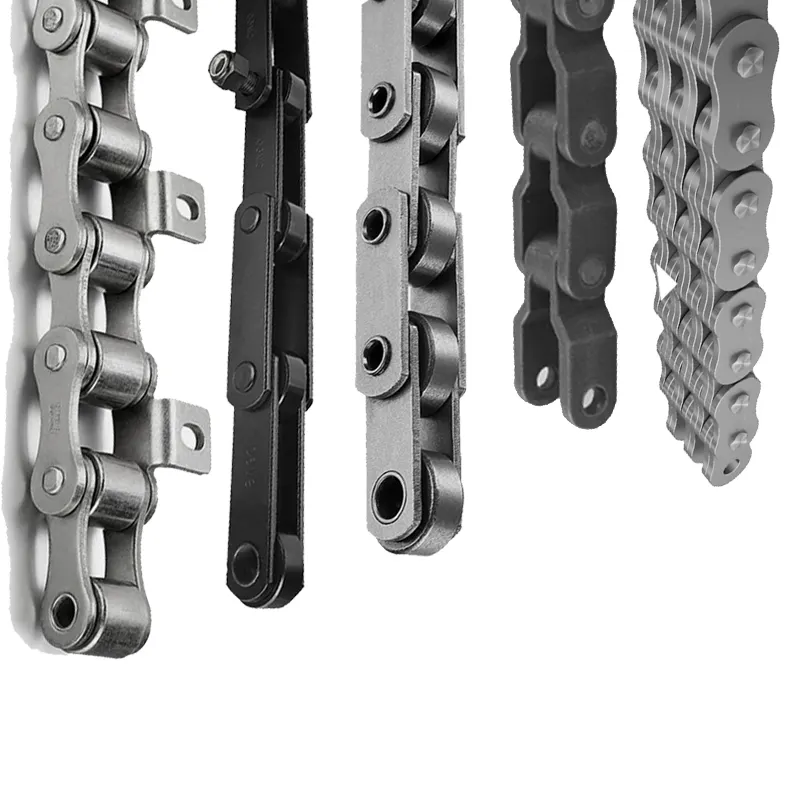 What are the advantages of using a silent chain in power transmission systems?
A silent chain, also known as an inverted tooth chain or silent synchronous chain, offers several advantages when used in power transmission systems. These advantages include:
– Quiet Operation: One of the main benefits of a silent chain is its ability to operate with minimal noise and vibration. The tooth profile and cushioning effect of the chain help reduce noise levels, making it ideal for applications where quiet operation is desired.
– High Load Capacity: Silent chains are designed to handle high loads and transmit power efficiently. The interlocking tooth design provides a large contact area, enabling the chain to withstand heavy loads without compromising performance.
– Accurate Speed and Position Control: Silent chains offer precise speed and position control due to their positive engagement with sprockets or pulleys. This makes them suitable for applications where precise timing and synchronization are crucial, such as in timing drives and conveyor systems.
– Wide Range of Speeds: Silent chains can operate at various speeds, from low to high, without compromising performance. They are capable of transmitting power effectively across a wide range of rotational speeds, making them versatile in different applications.
– Reliable Performance: Silent chains are known for their durability and long service life. They are designed to withstand demanding operating conditions, including high temperatures, shock loads, and harsh environments. Proper lubrication and maintenance further enhance their reliability and longevity.
– Backlash Elimination: Silent chains have minimal backlash, which refers to the play or movement between the teeth and sprockets/pulleys. This helps in maintaining accurate motion control and reduces the risk of positioning errors or fluctuations.
– Easy Installation and Maintenance: Silent chains are relatively easy to install and maintain. They can be easily replaced or repaired if necessary, reducing downtime and maintenance costs.
Overall, the advantages of using a silent chain in power transmission systems include quiet operation, high load capacity, precise speed control, reliability, versatility, and ease of installation and maintenance. These features make silent chains suitable for a wide range of applications, including automotive, industrial machinery, robotics, and more.



editor by CX 2023-08-17