Product Description
Products Collection
Product Description
QLZ Chains feature symmetrically toothed link plates on both sides, enabling equal performance and precision during bilateral use. This design makes it an ideal solution for applications with changes in the direction of rotation or for multi-shaft drives. Their flexibility ensures they can easily handle these situations, providing reliable and consistent performance.
When you need a specific design, we can provide customised solutions based on what you need. Whether you require specific features, plans, materials, or specifications, our team can work to ensure you get a chain that fully meets your needs.
Are you looking for other chains? 
Leave your message below, and feel free to contact us!
FAQ
Question 1: Are you a Manufacturer or a Trading Company?
Answer:
We are a 100% chain manufacturer with 23 years of experience
Question 2: What should I provide to get a quotation?
Answer:
1. Type of the chain (with photos if available)
2. Pitch of the chain
3. Width of the chain
4. Length and quantity of the chain
5. Other specific requirements
Question 3:
How long is your manufacturing and delivery time?
Answer: 
Products are usually finished in 2 weeks, depending on the type and quantity. Also, please get in touch with us to check the delivery time to your destination.
Question 4: How long is your guaranteed time?
Answer: 
We offer a three-year guarantee if you purchase chains and matched sprockets together.
If you need chains only, a one-year guarantee can also be confirmed.
Question 5: Trade terms and Payment terms?
Answer:
We accept EXW, FOB, DDU, Door to Door. Payment terms, such as T/T, L/C, and Western Union, are acceptable. We also provide the service of Online Trading in this B2B platform.
Company Profile
Shipping Cost:

Estimated freight per unit.





To be negotiated
| | |
| --- | --- |
| Standard or Nonstandard: | Standard |
| Application: | Textile Machinery, Garment Machinery, Conveyer Equipment, Packaging Machinery, Food Machinery, Marine, Mining Equipment, Agricultural Machinery, Car |
| Structure: | Tooth Chain |
Samples:

US$ 100/Meter

1 Meter(Min.Order)

|

Order Sample
Customization:

Available

|

Customized Request
What are the future trends and advancements in silent chain technology?
The future of silent chain technology is characterized by ongoing advancements aimed at improving performance, durability, and versatility. Here are some key trends and developments:
1. Material Innovations:
– Continued research and development in material science are leading to the discovery and development of new materials with enhanced properties, such as increased strength, improved wear resistance, and better corrosion resistance.
– Advanced composite materials, including carbon fiber and high-performance polymers, are being explored for their potential in silent chain applications.
2. Lubrication Systems:
– Improved lubrication systems are being developed to optimize the lubrication process and enhance the efficiency and longevity of silent chains.
– Self-lubricating chains or advanced lubricants with extended service intervals are being investigated to minimize maintenance requirements.
3. Noise Reduction:
– Efforts are being made to further reduce the noise levels associated with silent chains.
– Design modifications, such as improved tooth profiles and surface treatments, are being implemented to reduce friction and noise generation.
– Noise-dampening materials and coatings are also being explored to mitigate noise during chain operation.
4. Increased Load Capacity:
– Silent chains are being designed to handle higher loads and transmit more power.
– Advancements in material technology, manufacturing processes, and chain design allow for greater load-carrying capacity without compromising durability or performance.
5. Customization and Adaptability:
– Silent chains are becoming more customizable and adaptable to specific applications.
– Manufacturers are offering a wider range of chain sizes, configurations, and attachments to meet diverse customer requirements.
– Computer-aided design and simulation tools enable the optimization of silent chain systems for specific operational conditions and load profiles.
6. Digitalization and Monitoring:
– The integration of digital technologies, such as sensors and data analytics, is enabling real-time monitoring of chain performance and condition.
– Predictive maintenance techniques and remote monitoring systems help identify potential issues and optimize maintenance schedules, improving overall reliability and uptime.
These trends indicate a continuous focus on improving the performance, durability, and adaptability of silent chain technology to meet the evolving needs of various industries and applications.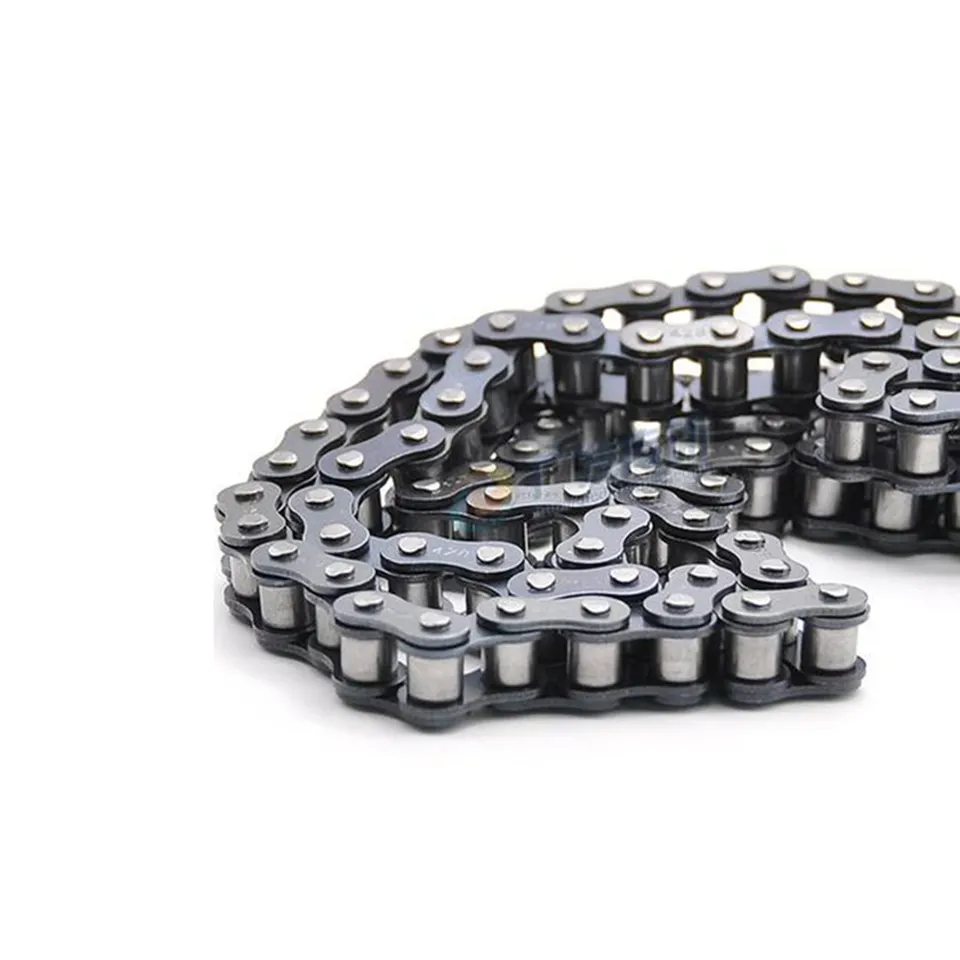 What are the maintenance requirements for a silent chain?
Maintaining a silent chain is essential to ensure its optimal performance and longevity. Here are the key maintenance requirements for a silent chain:
1. Regular Inspection: Conduct regular visual inspections of the silent chain to check for any signs of wear, damage, or misalignment. Look for elongation, cracked or damaged links, loose pins, and excessive wear on the sprockets.
2. Lubrication: Proper lubrication is crucial for the smooth operation of a silent chain. Apply the recommended lubricant to the chain to reduce friction, wear, and noise. Follow the manufacturer's guidelines for the type of lubricant to use and the recommended intervals for lubrication.
3. Tensioning: Check the tension of the silent chain regularly to ensure it is properly tensioned. Improper tension can lead to chain skipping, excessive wear, and reduced performance. Adjust the tension according to the manufacturer's recommendations or guidelines.
4. Cleaning: Keep the silent chain and its surroundings clean to prevent the accumulation of dirt, debris, or contaminants. Clean the chain regularly using suitable cleaning methods to remove any buildup that may affect its performance.
5. Replacement of Worn Parts: If any components of the silent chain, such as links, pins, or sprockets, are excessively worn or damaged, they should be replaced promptly. Continuing to use a worn chain can lead to decreased performance, increased noise, and potential failure.
6. Proper Storage: When not in use, store the silent chain in a clean and dry environment to protect it from moisture, corrosion, and other damaging elements.
7. Regular Maintenance Schedule: Establish a regular maintenance schedule for the silent chain based on its usage, operating conditions, and manufacturer's recommendations. This schedule should include inspections, lubrication, tension checks, and any other necessary maintenance tasks.
By following these maintenance requirements, you can ensure the silent chain operates efficiently, minimizes downtime, and extends its service life.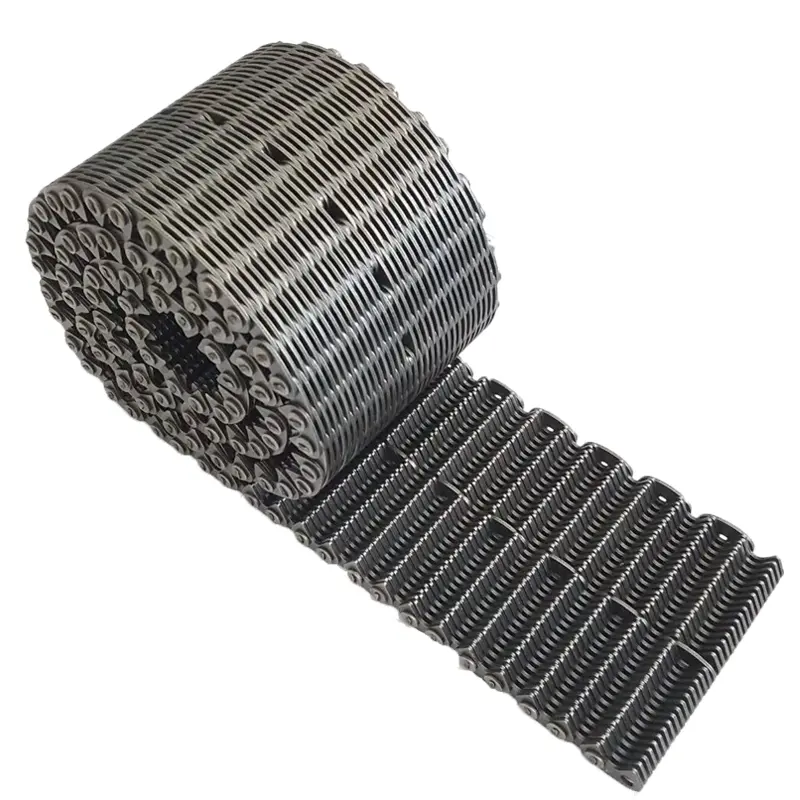 What are the main components of a silent chain?
A silent chain, also known as an inverted tooth chain or silent synchronous chain, consists of several key components that work together to transmit power efficiently and smoothly. The main components of a silent chain include:
1. Plates: The plates are the main links in the chain and are typically made of high-quality alloy steel. These plates have a unique shape with inverted teeth on both sides that engage with the sprockets.
2. Pins: The pins connect the plates together and provide flexibility for the chain to articulate. They are made of hardened steel and are precisely positioned within the chain links.
3. Bushings: The bushings are cylindrical components that fit inside the plates and provide a bearing surface for the pins. They are typically made of bronze or other self-lubricating materials to reduce friction and wear.
4. Sprockets: The sprockets are toothed wheels that engage with the inverted teeth on the chain plates. They provide the driving force and control the movement of the chain. The sprockets are precisely designed to match the pitch and tooth profile of the silent chain.
5. Tensioners: Tensioners are used to maintain proper tension in the silent chain. They ensure that the chain stays engaged with the sprockets and prevent slack or excessive tension that could affect the performance and lifespan of the chain.
6. Guides: Guides are optional components that are used to guide the silent chain and keep it properly aligned. They help reduce noise, vibration, and wear by preventing the chain from contacting other surfaces.
These components work together to form a reliable and efficient power transmission system. The precise design and manufacturing of these components contribute to the smooth and silent operation of the chain.



editor by CX 2023-09-06