Product Description
Middle Side Xihu (West Lake) Dis. Inverted Tooth Contact Silent Chain for 03C C4-120 C4-123 C4-129 C4-132 C4-138 C4-150 C4-320 C4-323
Product Description
Toothed chain, also known as silent chain, is a form of transmission chain. China's national standard is GB/T1571-2003 Toothed Chain and Sprocket. Toothed chain is composed of a series of toothed chain plates and guide plates alternately assembled and connected by pin or combined hinge elements, and the adjacent pitch is hinge joint. According to the guide type, it can be divided into external guided toothed chain, internal guided toothed chain and double internal guided toothed chain.
Chain No.

Chain

width

Pin length

Xihu (West Lake) Dis.

type

Number of

plates

Litimete tensile

strenght

Average

tensile

strenght

Weight

per meter

 

b max

Lc max

L max

 

n

Q min

Kn/lbf

Q0 

KN

q

kg/m

03C

10.2

16.7

15.2

inside

 

 

 

 

C4-120

19.5

26

24.5

13

20/4545

22.2

1.2

C4-123

22.5

29

27.5

15

23/5227

25.5

1.37

C4-129

28.5

35

33.5

19

28.5/6477

31.6

1.72

C4-132

31.5

38

36.5

21

31.5/7159

34.9

1.89

C4-138

37.5

44

42.5

25

38/8636

42.1

2.22

C4-150

49.5

56

54.5

33

50/11363

55.5

2.9

C4-320

19.5

26

24.5

outside

13

20/4545

22.2

1.21

C4-323

22.5

29

27.5

15

23/5227

25.5

1.38

C4-329

28.5

35

33.5

19

28.5/6477

31.6

1.73

C4-332

31.5

38

36.5

21

31.5/7159

34.9

1.9

C4-338

37.5

44

42.5

25

38/8636

42.1

2.23
Chain No

Pitch

Pin diameter

Dsitance from hole center to tooth

Plate depth

Plate thickness

 

P

d2 max

h1 max

h2 max

t/T

max

03C

4.76

1.62

1.9

4.9

0.6

C4-120

12.7

4.45

6.62

12.1

1.5

C4-123

C4-129

C4-132

C4-138

C4-150

C4-320

12.7

4.45

6.62

12.1

1.5

C4-329

C4-332

C4-338
Main features:
1. The noise small tooth chain transmits power through the meshing of the involute tooth profile of the working
chain plate and the sprocket teeth. Compared with the roller chain and sleeve chain, the polygonal effect is significantly
reduced, and the impact is small, the movement is stable, and the meshing noise is small.
2. The chain link of the tooth chainwith high reliability is a multi-piece structure. When a single chain link is damaged in the work, it will not affect the work of the whole chain, so that people can find and replace it in time. If it is necessary to increase the bearing capacity, it only needs to be smaller in the width direction (increase the number of chain link rows).
3. High kinematic accuracy The wear and elongation of each link of the toothed chain are uniform, which can maintain high kinematic accuracy. The so-called silent chain is a toothed chain, also known as a tank chain. It looks like a chain track. It is riveted by multiple steel plates. The better the meshing with the sprocket, the less noise when entering the teeth, the more resistant to stretching, and can effectively reduce the noise of the chain. Now more and more chain engines use this silent chain for timing chain and oil pump chain.
Main application scope of toothed chain: toothed chain is mainly used in textile machinery, centerless grinder and conveyor belt mechanical equipment.
Company Profile
The company has advanced manufacturing technology and relatively strong manufacturing force, and high-end precision testing instruments to ensure that every chain leaving the factory is qualified. The company mainly deals in: transmission chain, transmission chain, lifting chain, agricultural machinery chain, stainless steel chain, etc. Various non-standard chains are ordered separately. The company uses more than 600 kinds of non-standard molds. It can be customized according to drawings. We implement all-round management and control over product quality and service, and constantly improve customer satisfaction. The chain produced by the company enjoys a certain reputation in the world with its high quality, good reputation and high-quality service.
Related products
The chain types are divided into engineering chain, conveying chain, plate chain, transmission chain, escalator chain, parking equipment chain, agricultural chain, stainless steel chain, etc. There are different types of chains with different purposes, specifications, models and styles. 
Plate chain type Plate chain is usually used to lift goods. For example, forklift, lifting machinery and equipment. Plate chain has no rollers, but chain plates are connected with each other. It is a kind of chain used for loading. Different types of plate chains have different functions,
Stainless steel chain Stainless steel chain types include standard stainless steel chain, stainless steel hollow pin chain, stainless steel chain used for environmental protection equipment, etc,
 
Type of transmission chain Many types of transmission chains are power transmission chains, such as precision roller chains, double pitch roller chains, high-strength short pitch precision roller chains, petroleum chains, pumping unit chains, self-lubricating roller chains, side bending (turning machine) chains, corrosion resistant chains, etc
There are many types of escalator chains, including escalator step chains, heavy-duty high gradient escalator step chains, travelator chains, and escalator chains of different specifications and models,

 

The engineering chain includes many kinds of chains, such as cement bucket elevators, environmental protection equipment, pavers, trenchers, welding equipment, mining, power plant dust removal and other equipment.
 
Agricultural machinery chain Agricultural machinery chain is a chain developed and produced according to the characteristics of different crops, including rice harvester chain, GS38 combine chain, corn harvester chain, citrus straw harvester chain, soybean harvester chain, peanut harvesting chain, garlic sowing chain, and potato planter chain.
There are many types of conveying chains, such as wood conveying chain, double speed chain, RF conveying chain, sharp tooth chain, sugar chain, brown oil chain, F chain, metric conveying chain, top roller conveying chain, grain scraper, hollow pin, suspension conveying, etc. The conveying chain is a power chain for transporting goods.
Parking equipment chain This type of chain includes roller chains for parking equipment, chains for vertical circulation parking equipment, and parking equipment chains that can be developed according to demand.
 
We not only produce chains and transmissions, including gear boxes, sprockets, gears, racks, couplings and other products, but also supply them to meet your one-stop purchase. Welcome to consult us
Packaging & Shipping
Certifications
| | |
| --- | --- |
| Usage: | Transmission Chain, Drag Chain, Conveyor Chain, Dedicated Special Chain |
| Material: | Stainless steel |
| Surface Treatment: | Oil Blooming |
| Feature: | Oil Resistant |
| Chain Size: | 1/2"*3/32" |
| Structure: | Roller Chain |
Samples:

US$ 9999/Piece

1 Piece(Min.Order)

|
Request Sample
What are the future trends and advancements in silent chain technology?
The future of silent chain technology is characterized by ongoing advancements aimed at improving performance, durability, and versatility. Here are some key trends and developments:
1. Material Innovations:
– Continued research and development in material science are leading to the discovery and development of new materials with enhanced properties, such as increased strength, improved wear resistance, and better corrosion resistance.
– Advanced composite materials, including carbon fiber and high-performance polymers, are being explored for their potential in silent chain applications.
2. Lubrication Systems:
– Improved lubrication systems are being developed to optimize the lubrication process and enhance the efficiency and longevity of silent chains.
– Self-lubricating chains or advanced lubricants with extended service intervals are being investigated to minimize maintenance requirements.
3. Noise Reduction:
– Efforts are being made to further reduce the noise levels associated with silent chains.
– Design modifications, such as improved tooth profiles and surface treatments, are being implemented to reduce friction and noise generation.
– Noise-dampening materials and coatings are also being explored to mitigate noise during chain operation.
4. Increased Load Capacity:
– Silent chains are being designed to handle higher loads and transmit more power.
– Advancements in material technology, manufacturing processes, and chain design allow for greater load-carrying capacity without compromising durability or performance.
5. Customization and Adaptability:
– Silent chains are becoming more customizable and adaptable to specific applications.
– Manufacturers are offering a wider range of chain sizes, configurations, and attachments to meet diverse customer requirements.
– Computer-aided design and simulation tools enable the optimization of silent chain systems for specific operational conditions and load profiles.
6. Digitalization and Monitoring:
– The integration of digital technologies, such as sensors and data analytics, is enabling real-time monitoring of chain performance and condition.
– Predictive maintenance techniques and remote monitoring systems help identify potential issues and optimize maintenance schedules, improving overall reliability and uptime.
These trends indicate a continuous focus on improving the performance, durability, and adaptability of silent chain technology to meet the evolving needs of various industries and applications.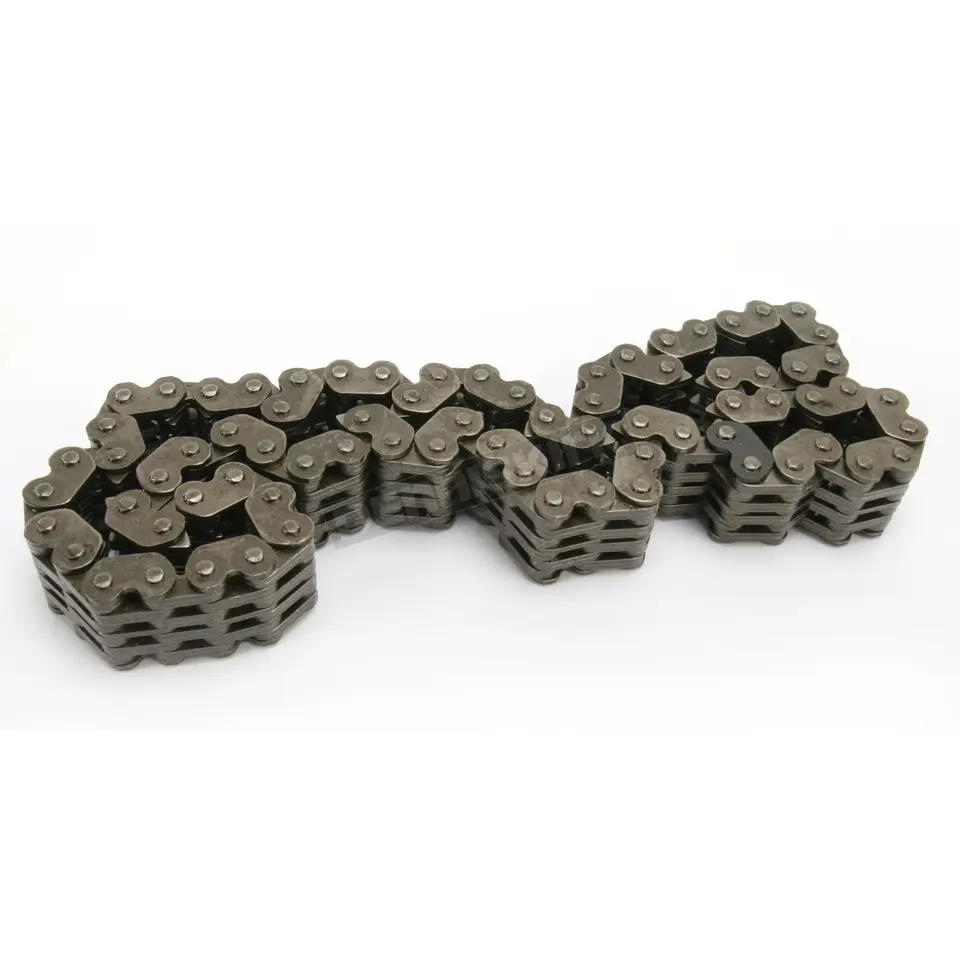 What are the benefits of using a self-lubricating silent chain?
Using a self-lubricating silent chain offers several advantages in terms of performance, maintenance, and overall cost-effectiveness. Here are some key benefits:
1. Reduced Maintenance: Self-lubricating silent chains are designed with built-in lubrication mechanisms, such as oil-impregnated materials or solid lubricants. This eliminates the need for external lubrication, resulting in reduced maintenance requirements and associated costs.
2. Improved Reliability: The self-lubricating feature ensures consistent and proper lubrication throughout the chain's operation. This helps reduce friction, wear, and heat generation, leading to improved chain reliability and extended service life.
3. Enhanced Performance: The continuous lubrication provided by self-lubricating chains helps maintain smooth and efficient power transmission. It reduces power losses due to friction, minimizes noise and vibration, and allows for higher operating speeds and loads.
4. Clean and Environmentally Friendly: Self-lubricating chains eliminate the need for external lubricants, resulting in a cleaner and more environmentally friendly operation. There is no risk of lubricant contamination or leakage, making them suitable for applications with strict cleanliness requirements, such as food processing or medical industries.
5. Cost Savings: The reduced maintenance and longer service life offered by self-lubricating chains contribute to cost savings over the chain's lifespan. There is no need for frequent lubrication, fewer replacement parts are required, and downtime for maintenance is minimized.
6. Easy Installation: Self-lubricating chains are typically pre-lubricated during the manufacturing process, making them ready for immediate installation. This simplifies the chain installation process and saves time and effort.
Overall, self-lubricating silent chains provide reliable, low-maintenance, and efficient power transmission solutions, making them suitable for a wide range of applications where reduced maintenance, improved performance, and cost savings are desired.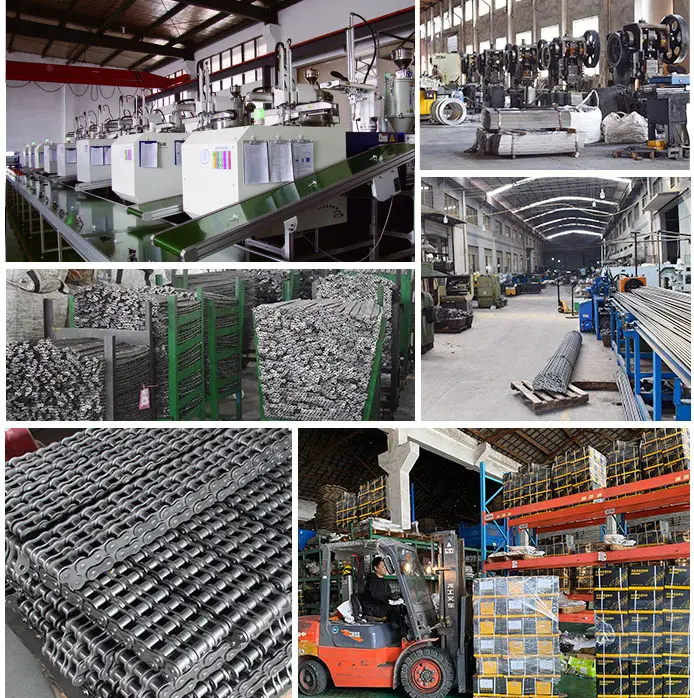 What industries commonly use silent chains?
Silent chains, also known as inverted tooth chains or silent synchronous chains, are utilized in various industries where reliable power transmission and precise motion control are required. Some of the industries that commonly use silent chains include:
1. Automotive: Silent chains are widely employed in automotive applications, such as engines and timing systems, where accurate timing, low noise, and high durability are critical.
2. Industrial Machinery: Many types of industrial machinery, including printing presses, packaging machines, and textile machinery, rely on silent chains for their power transmission needs due to their ability to handle high loads and provide precise motion control.
3. Robotics: Silent chains play a significant role in robotics, where precise movement and synchronization are essential. They are used in robotic arms, pick-and-place systems, and other robotic applications.
4. Aerospace: In the aerospace industry, silent chains are utilized in various applications, such as aircraft engines, auxiliary power units, and flight control systems, where reliable power transmission and minimal noise are crucial.
5. Food and Beverage: Silent chains find applications in the food and beverage industry, particularly in processing and packaging equipment. Their low noise operation and ability to withstand washdown conditions make them suitable for these environments.
6. Medical: Silent chains are used in medical equipment and devices that require precise motion control, such as imaging systems, laboratory automation, and surgical robots.
7. Material Handling: Silent chains are employed in material handling equipment, including conveyors, lifts, and automated storage systems, to ensure reliable power transmission and accurate positioning.
These are just a few examples, and silent chains may be found in various other industries where their unique characteristics and performance advantages are beneficial for specific applications.



editor by CX 2023-08-31