Product Description
Product Description
HRSY Roller Chain Profile

Standard:

ANSI, DIN, ISO

Type:        

Drive chains, Conveyor chains, Engineering chains, Agricultural chains, Traction chains, Escalator chains

Drive chain

Short pitch precision roller chain (A series, B series, Hevey duty series roller chain) 

High strength short pitch roller chains
Corrosion resistant short pitch roller chain

Self-lubrication roller chain

O-Ring chains

Oil filed chains

Heavy duty cranked-link transmission chains

Double pitch transmission chains

Inverted tooth chains

Motorcycle chains

Other (Driver chains)

Conveyor chains

Conveying roller chains

Rubber attached plate chains

Printing iron drying room line chains

Double hinged conveyor chains

Metric (M type) conveyor chains

FV series conveyor chains

Wooden conveyor chains

Chains for food packaging machinery

Conveyor chains for paper roll

Engineering chains

Conveying chains for cement industry

Scraper conveyor chains

Conveyor chains for coal washer

Rubber gloves carrier chains

Steel sleeve chain for engineering

Welded-steel-type mill chains

Sugar machine chains

Conveyor chains for steel mill

Agricultural chains

Agricultural machinery drive chains

Steel pintle chains 

ZGS38 combine harvester chains

Rice harvester chains

S type C type
Steel roller chains

Others

Traction chains

Plate chains

Leaf chains for sky stacker

Traction chains

Others

Escalator chains

Escalator step chains

Escalator driver chains

Material

40Mn, 45Mn, SS316, SS304, SS201

Advantage

We have competitive price and high quality.

Our stock standard length: 5ft each piece, 10ft each piece.

Custom length: We can custom according to your demand.

We can accept your Logo, accept ODM, OEM.
Detailed Photos
Packaging & Shipping
Company Profile
ZheJiang Haorongshengye Electrical Equipment Co., Ltd.
1. Was founded in 2008
2. Our Principle:
"Credibility Supremacy, and Customer First"
3. Our Promise:
"High quality products, and Excellent Service"
4. Our Value:
"Being Honesty, Doing the Best, and Long-lasting Development"
5. Our Aim:
"Develop to be a leader in the power transmission parts industry in the world"
 
6.Our services:

1).Competitive price

2).High quality products

3).OEM service or can customized according to your drawings

4).Reply your inquiry in 24 hours

5).Professional technical team 24 hours online service

6).Provide sample service
Main products
Machines
Exbihition
| | |
| --- | --- |
| Standard or Nonstandard: | Standard |
| Application: | Textile Machinery, Garment Machinery, Conveyer Equipment, Packaging Machinery, Electric Cars, Motorcycle, Food Machinery, Marine, Mining Equipment, Agricultural Machinery, Car |
| Surface Treatment: | Oil Blooming |
| Structure: | Roller Chain |
| Material: | Stainless Steel |
| Type: | Short Pitch Chain |
Samples:

US$ 50/Meter

1 Meter(Min.Order)

|
Request Sample
Customization:

Available

|

Customized Request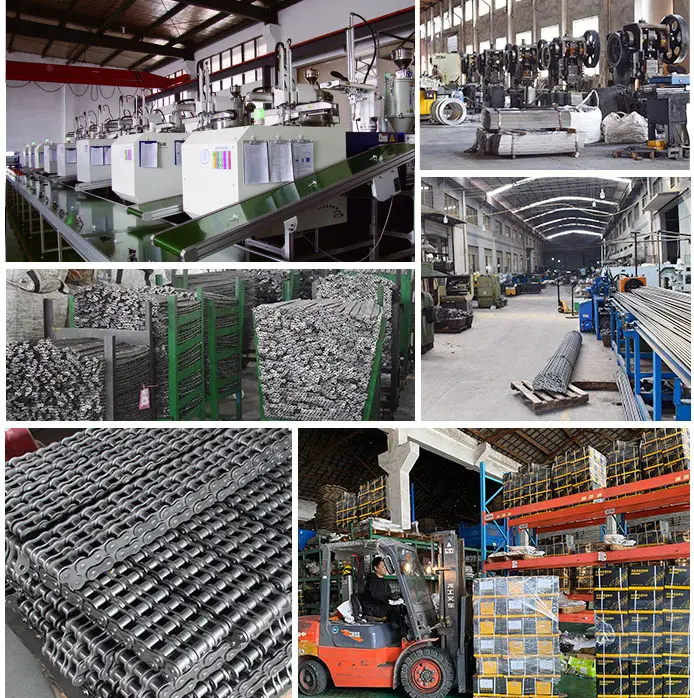 What are the noise levels associated with a silent chain?
The noise levels associated with a silent chain are generally lower compared to other types of power transmission systems.
Due to their unique tooth design and engagement mechanism, silent chains operate with reduced noise and vibration.
Here are some factors that contribute to the low noise levels of a silent chain:
1. Tooth Profile:
– Silent chains feature an inverted-tooth profile with rounded edges and precise tooth spacing.
– This design helps minimize impact and noise during tooth engagement with the sprockets, resulting in quieter operation.
2. Smooth Operation:
– The even distribution of load across multiple teeth and the consistent meshing between the chain and sprockets contribute to smooth and silent operation.
– The smooth movement of the silent chain reduces friction and noise generation.
3. Dampening Properties:
– Silent chains often incorporate materials or coatings that help dampen vibrations and reduce noise.
– These dampening properties further contribute to a quieter operating environment.
While silent chains offer lower noise levels compared to other chain types, it's important to note that the overall noise level also depends on other factors such as the surrounding equipment, lubrication, and maintenance practices.
– Proper lubrication and regular maintenance can help minimize noise levels and ensure optimal performance of the silent chain.
– Additionally, implementing noise reduction measures such as using noise-absorbing materials or installing sound insulation can further reduce the overall noise associated with a silent chain.
Can a silent chain be used in high-speed applications?
Yes, a silent chain can be used in high-speed applications. Silent chains are designed to operate at various speeds, including high speeds, while maintaining their performance and reliability.
Here are some factors to consider when using a silent chain in high-speed applications:
1. Chain Design: Silent chains are available in different designs and constructions, each with its own speed capabilities. It is important to select a silent chain that is specifically designed and rated for high-speed operation.
2. Material Selection: The materials used in the construction of the silent chain play a crucial role in its performance at high speeds. High-quality materials with excellent fatigue resistance and dimensional stability are preferred for high-speed applications.
3. Lubrication: Proper lubrication is essential for reducing friction, heat, and wear in high-speed applications. Using the appropriate lubricant and ensuring proper lubrication intervals are crucial for the silent chain's smooth operation at high speeds.
4. Tensioning and Alignment: Accurate tensioning and alignment of the silent chain are critical for high-speed operation. Proper tensioning ensures the chain remains properly engaged with the sprockets, while alignment minimizes the risk of chain vibration or excessive wear.
5. Maintenance and Inspection: Regular maintenance and inspection are important for identifying any issues or signs of wear that could affect the silent chain's performance at high speeds. This includes monitoring chain tension, lubrication condition, and checking for any signs of elongation, wear, or damage.
By considering these factors and following the manufacturer's guidelines, a silent chain can be successfully used in high-speed applications. It is important to select a silent chain specifically designed for high-speed operation and ensure proper maintenance and lubrication practices to maximize performance and longevity.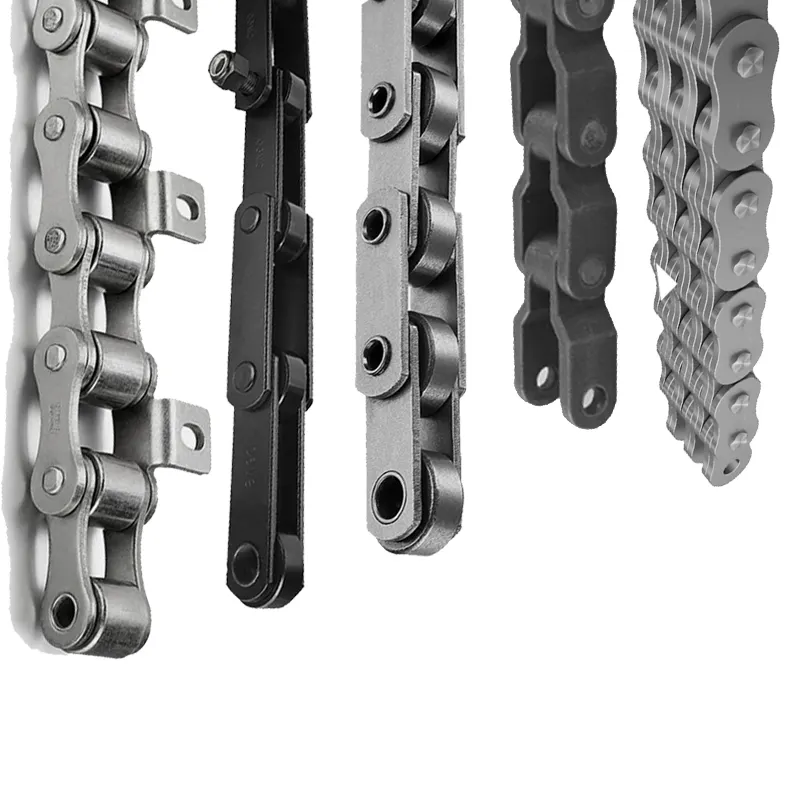 What are the advantages of using a silent chain in power transmission systems?
A silent chain, also known as an inverted tooth chain or silent synchronous chain, offers several advantages when used in power transmission systems. These advantages include:
– Quiet Operation: One of the main benefits of a silent chain is its ability to operate with minimal noise and vibration. The tooth profile and cushioning effect of the chain help reduce noise levels, making it ideal for applications where quiet operation is desired.
– High Load Capacity: Silent chains are designed to handle high loads and transmit power efficiently. The interlocking tooth design provides a large contact area, enabling the chain to withstand heavy loads without compromising performance.
– Accurate Speed and Position Control: Silent chains offer precise speed and position control due to their positive engagement with sprockets or pulleys. This makes them suitable for applications where precise timing and synchronization are crucial, such as in timing drives and conveyor systems.
– Wide Range of Speeds: Silent chains can operate at various speeds, from low to high, without compromising performance. They are capable of transmitting power effectively across a wide range of rotational speeds, making them versatile in different applications.
– Reliable Performance: Silent chains are known for their durability and long service life. They are designed to withstand demanding operating conditions, including high temperatures, shock loads, and harsh environments. Proper lubrication and maintenance further enhance their reliability and longevity.
– Backlash Elimination: Silent chains have minimal backlash, which refers to the play or movement between the teeth and sprockets/pulleys. This helps in maintaining accurate motion control and reduces the risk of positioning errors or fluctuations.
– Easy Installation and Maintenance: Silent chains are relatively easy to install and maintain. They can be easily replaced or repaired if necessary, reducing downtime and maintenance costs.
Overall, the advantages of using a silent chain in power transmission systems include quiet operation, high load capacity, precise speed control, reliability, versatility, and ease of installation and maintenance. These features make silent chains suitable for a wide range of applications, including automotive, industrial machinery, robotics, and more.



editor by CX 2023-09-01