Product Description
Round pin type silent chain – SC1252-11X10W
A. Our Services:
1. Any of your kind inquiry about chain would be replied within 24 hours.
2. Well-trained and experienced sales staffs will reply all your concerns in fluent English.
3. OEM services are available with us, our professional designer would make your private idea into being.
4. Protection of your sales area, ideas of design and all your private information.
5. Delivery by air mail or ship for your orders.
6. With years of manufacture and promotion experience in global market, brings you profit and great success!
B.Product Description:

C.Company show & Product Process
D. Packaging 
| | |
| --- | --- |
| Packaging Details: | Chain+Plastic Bag+Neutral Box+Wooden case+Big Carton+Steel Pallets |
| Delivery Detail: | five weeks |
E. FAQ:
1. Are you manufacturer or trade Company?
We are a factory founded in 1991 with trade team for international service.
2. What terms of payment you usually use?
T/T 30% deposit and 70% against document, Western Union, L/C at sight
3. what is your lead time for your goods?
Normally 45 days after confirmed order. 30 days could be available in low season for some items (during May to July), and 65 days during new year and hot season ( Jan to March).
4. Do you attend any Show?
We attend Hannover show in Germany, NMW in Austrilia, Canton fair, PTC, in China and many other special furniture shows.
| | |
| --- | --- |
| Usage: | Transmission Chain |
| Material: | Carbon Steel |
| Surface Treatment: | Oil Blooming |
| Feature: | Heat Resistant |
| Chain Size: | 1/2"*3/32" |
| Structure: | Roller Chain |
Customization:

Available

|

Customized Request
What are the future trends and advancements in silent chain technology?
The future of silent chain technology is characterized by ongoing advancements aimed at improving performance, durability, and versatility. Here are some key trends and developments:
1. Material Innovations:
– Continued research and development in material science are leading to the discovery and development of new materials with enhanced properties, such as increased strength, improved wear resistance, and better corrosion resistance.
– Advanced composite materials, including carbon fiber and high-performance polymers, are being explored for their potential in silent chain applications.
2. Lubrication Systems:
– Improved lubrication systems are being developed to optimize the lubrication process and enhance the efficiency and longevity of silent chains.
– Self-lubricating chains or advanced lubricants with extended service intervals are being investigated to minimize maintenance requirements.
3. Noise Reduction:
– Efforts are being made to further reduce the noise levels associated with silent chains.
– Design modifications, such as improved tooth profiles and surface treatments, are being implemented to reduce friction and noise generation.
– Noise-dampening materials and coatings are also being explored to mitigate noise during chain operation.
4. Increased Load Capacity:
– Silent chains are being designed to handle higher loads and transmit more power.
– Advancements in material technology, manufacturing processes, and chain design allow for greater load-carrying capacity without compromising durability or performance.
5. Customization and Adaptability:
– Silent chains are becoming more customizable and adaptable to specific applications.
– Manufacturers are offering a wider range of chain sizes, configurations, and attachments to meet diverse customer requirements.
– Computer-aided design and simulation tools enable the optimization of silent chain systems for specific operational conditions and load profiles.
6. Digitalization and Monitoring:
– The integration of digital technologies, such as sensors and data analytics, is enabling real-time monitoring of chain performance and condition.
– Predictive maintenance techniques and remote monitoring systems help identify potential issues and optimize maintenance schedules, improving overall reliability and uptime.
These trends indicate a continuous focus on improving the performance, durability, and adaptability of silent chain technology to meet the evolving needs of various industries and applications.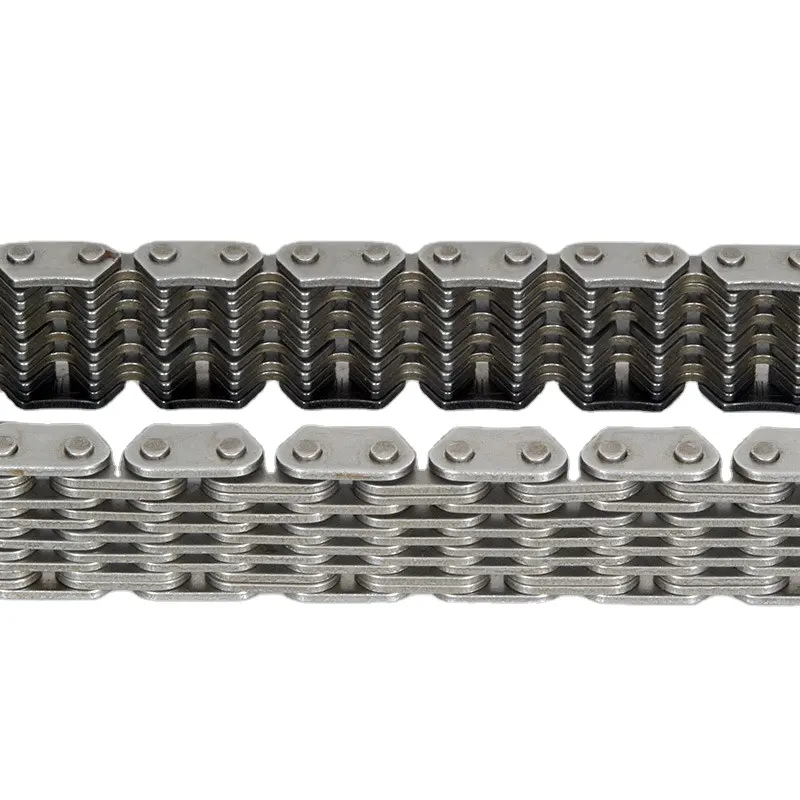 Can a silent chain be repaired or does it need to be replaced entirely?
When a silent chain is damaged or worn, the extent of the damage and the overall condition of the chain will determine whether it can be repaired or needs to be replaced entirely. Here are some considerations:
1. Minor Damage:
– If the silent chain has minor damage, such as a few worn or damaged links, it may be possible to repair it by replacing those specific links. This can be done by removing the damaged links and installing new ones.
– Additionally, if the chain has minor issues like loose pins or misalignment, these can often be corrected through proper adjustments and alignment.
2. Extensive Damage:
– If the silent chain has extensive damage, such as significant elongation, excessive wear, or multiple damaged links, it may be more cost-effective and practical to replace the entire chain.
– Extensive damage can compromise the performance and integrity of the chain, making repairs less reliable and potentially leading to further issues down the line.
3. Manufacturer Recommendations:
– It's important to consult the manufacturer's guidelines and recommendations regarding repairs. They will provide insights into the repairability of their specific silent chain models and offer guidance on when replacement is necessary.
– Manufacturers may provide repair kits or replacement parts for specific chain components, enabling repairs for certain types of damage.
4. Professional Evaluation:
– In cases where the extent of the damage is uncertain or if the silent chain plays a critical role in the application, it is advisable to seek a professional evaluation.
– A qualified professional can assess the condition of the silent chain, determine if repairs are feasible, and provide recommendations on the best course of action.
Ultimately, the decision to repair or replace a silent chain will depend on the severity of the damage, the cost-effectiveness of repairs, and the manufacturer's recommendations. It's essential to prioritize safety and consider the long-term performance and reliability of the conveyor system when making this decision.
What is a silent chain and how does it work?
A silent chain, also known as an inverted tooth chain or silent synchronous chain, is a type of power transmission chain that is designed to operate with minimal noise and vibration. It is commonly used in applications where quiet operation is required, such as timing drives, conveyors, and machinery.
A silent chain consists of a series of interlocking links with specially shaped teeth. The links are typically made of metal, such as steel, and the teeth engage with corresponding sprockets or pulleys to transmit motion and power.
The unique design of a silent chain allows for smooth and efficient power transmission. The interlocking teeth engage and disengage with the sprockets or pulleys in a way that minimizes noise and vibration. This is achieved through the following mechanisms:
– Tooth Shape: The teeth of a silent chain are specially contoured to provide a smooth and quiet engagement with the sprockets. The tooth profile helps to distribute the load evenly and reduce impact and noise during operation.
– Cushioning Effect: Silent chains often incorporate elastomeric or plastic inserts between the links to dampen vibrations and reduce noise. These inserts act as shock absorbers, absorbing and dissipating the energy generated during engagement.
– Lubrication: Proper lubrication of the silent chain is essential to ensure smooth operation and minimize friction and wear. Lubricants help reduce noise and maintain the chain's performance and longevity.
Overall, the design of a silent chain aims to minimize noise, vibration, and backlash while providing reliable power transmission. This makes it suitable for applications where quiet operation is critical, such as in automotive engines, office equipment, and high-precision machinery.



editor by CX 2023-07-20