Product Description
Detailed Photos
Product Parameters
Our Advantages
Company advantages:
Own Import & Export License, The TV trade mark registered successfully in many countries, Sales network spread all over China, Products export to 65 countries in 5 continents.
Membership:
1. The member of China General Machine Components Industry Association.
2. The member of China Chain Transmission Association.
3. The member of China Chain Standardization Association.
4. The member of China Agricultural Association Machinery Manufacturers.
With our excellent trained staffs and workers, advanced and efficient equipments, completely sales network, strict QA systems. You are confidence that our premium qualified chain can meet all customers' specification and strictest quality standards.
WHY CHOOSE US
Comprehensive Product Portfolio We produce and supply a wide range of power transmission
products including drive chains, leaf chains, conveyor chains, agricultural chains, sprockets, and
couplings. This one-store-for-all shopping experience will significantly reduce your searching costs while
guarantee youfind what you want at 1 click.
Value Choice Products Our products are the best combination of quality and price, and you get what
you want within your budgets
Seasoned Sales Associates and Engineers We have 15 seasoned sales associates and 5 engineers;
on our team at your disposal any time when you need a helping hand. They are well trained with industry
know-now and will always respond to your requests within 24 hours.
100% Customer Retention Rate Our regular customers from overseas come back not just for our
premium quality products, but for the superior services that we've provided over the years.
FAQ
Q1: What's your average lead time?
A: It varies. Our regular end-to-end lead time is 1-2 months.. We also provide express shipments for rush orders. For details,please consult our sales associate.
Q2: Is your price better than your competitors given the same quality?
A: Definitely YES. We provide the most competitive price in the power transmission industry. If price disparity exists, we'll be more than happy to do a price match.
Q3: Can you make chains according to my CAD drawings?
A: Yes. Besides the regular standard chains, we produce non-standard and custom-design products to meet the specific technical requirements. In reality, a sizable portion of our production capacity is assigned to make non-standard products.
Q4: Can we inspect the goods before shipment?
A: Yes. You or your representative or any third-party inspection party assigned is allowed access to our facility and do the inspection.
Q5: What kind of payment method is acceptable for your mill?
A: We're flexible. We take T/T, L/C, or any other online payment methods so long as it's applicable for you.
Q6: What if I have any other questions?
A: Whenever in doubt, you're always encouraged to consult our sales associate any time – They will help you to your satisfaction.
Shipping Cost:

Estimated freight per unit.





To be negotiated
| | |
| --- | --- |
| Usage: | Transmission Chain, Conveyor Chain |
| Material: | Alloy/Carbon Steel |
| Surface Treatment: | Natural |
Samples:

US$ 5/Piece

1 Piece(Min.Order)

|

Order Sample
Customization:

Available

|

Customized Request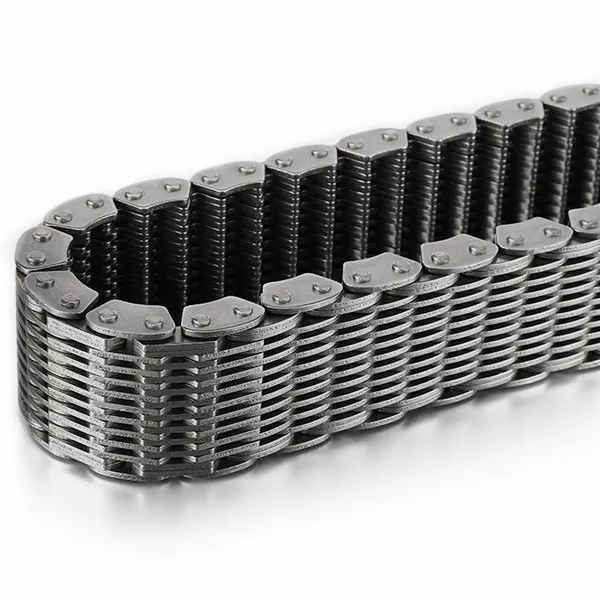 How do you prevent wear and elongation in a silent chain?
To prevent wear and elongation in a silent chain, several measures can be taken:
1. Proper Lubrication:
– Regular and appropriate lubrication is essential to minimize friction and wear in the chain.
– Lubricating the chain reduces friction between the pins, bushings, and rollers, preventing excessive wear.
– Consult the manufacturer's recommendations for the appropriate lubricant type and frequency of lubrication.
2. Correct Tensioning:
– Maintaining proper tension in the silent chain is crucial to prevent excessive elongation.
– Ensure that the chain is correctly tensioned according to the manufacturer's guidelines.
– Over-tensioning can increase stress and wear, while under-tensioning can result in excessive elongation.
3. Avoiding Overloading:
– Silent chains have specified load capacities, and exceeding these limits can lead to accelerated wear and elongation.
– Avoid subjecting the chain to excessive loads beyond its design capacity.
4. Regular Inspection:
– Conduct regular inspections of the silent chain to identify any signs of wear or elongation.
– Look for indications such as elongated pitch, excessive chain slack, or visible signs of damage.
– Promptly replace any worn-out or damaged components to prevent further wear and elongation.
5. Selecting the Right Chain Material:
– Choosing a silent chain made from high-quality materials that offer good wear resistance can help prevent premature wear and elongation.
– Consider the specific application requirements, such as temperature, chemicals, and abrasion, when selecting the chain material.
6. Proper Installation:
– Ensure the silent chain is installed correctly, following the manufacturer's instructions.
– Improper installation can introduce additional stress and contribute to accelerated wear and elongation.
By implementing these preventive measures, you can significantly reduce wear and elongation in a silent chain, ensuring its longevity and optimal performance.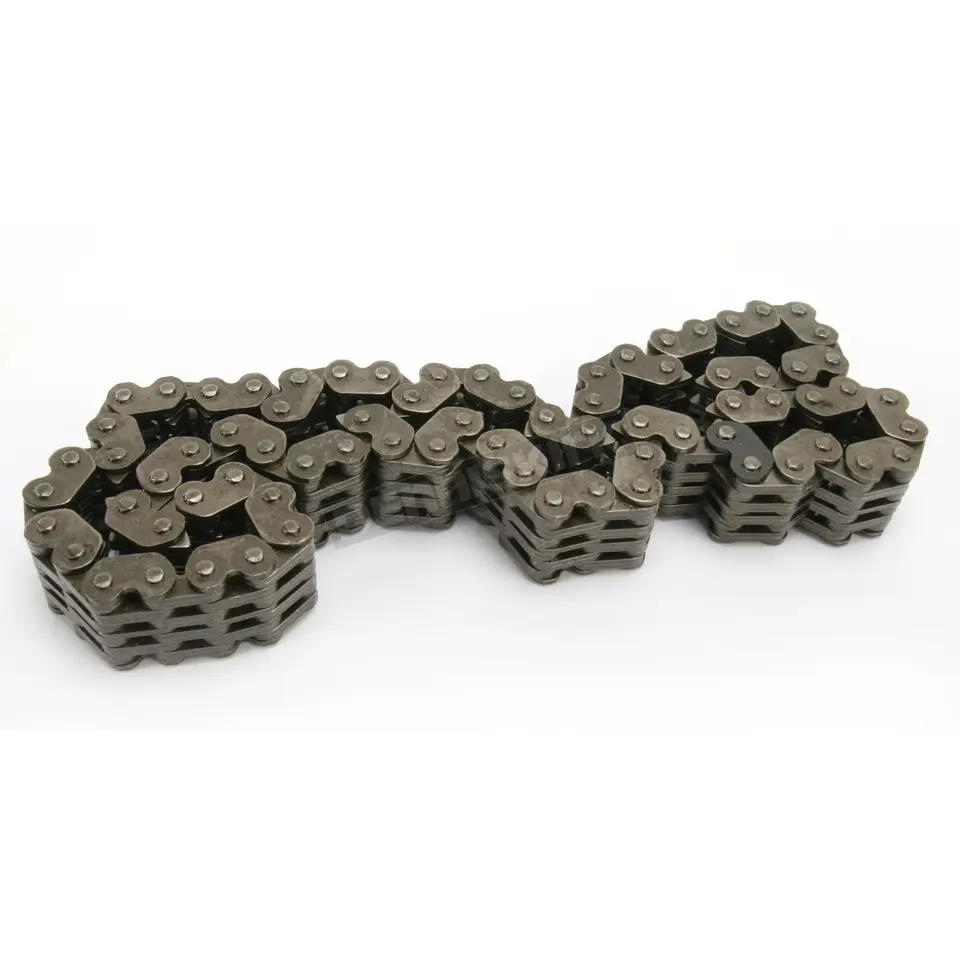 What are the benefits of using a self-lubricating silent chain?
Using a self-lubricating silent chain offers several advantages in terms of performance, maintenance, and overall cost-effectiveness. Here are some key benefits:
1. Reduced Maintenance: Self-lubricating silent chains are designed with built-in lubrication mechanisms, such as oil-impregnated materials or solid lubricants. This eliminates the need for external lubrication, resulting in reduced maintenance requirements and associated costs.
2. Improved Reliability: The self-lubricating feature ensures consistent and proper lubrication throughout the chain's operation. This helps reduce friction, wear, and heat generation, leading to improved chain reliability and extended service life.
3. Enhanced Performance: The continuous lubrication provided by self-lubricating chains helps maintain smooth and efficient power transmission. It reduces power losses due to friction, minimizes noise and vibration, and allows for higher operating speeds and loads.
4. Clean and Environmentally Friendly: Self-lubricating chains eliminate the need for external lubricants, resulting in a cleaner and more environmentally friendly operation. There is no risk of lubricant contamination or leakage, making them suitable for applications with strict cleanliness requirements, such as food processing or medical industries.
5. Cost Savings: The reduced maintenance and longer service life offered by self-lubricating chains contribute to cost savings over the chain's lifespan. There is no need for frequent lubrication, fewer replacement parts are required, and downtime for maintenance is minimized.
6. Easy Installation: Self-lubricating chains are typically pre-lubricated during the manufacturing process, making them ready for immediate installation. This simplifies the chain installation process and saves time and effort.
Overall, self-lubricating silent chains provide reliable, low-maintenance, and efficient power transmission solutions, making them suitable for a wide range of applications where reduced maintenance, improved performance, and cost savings are desired.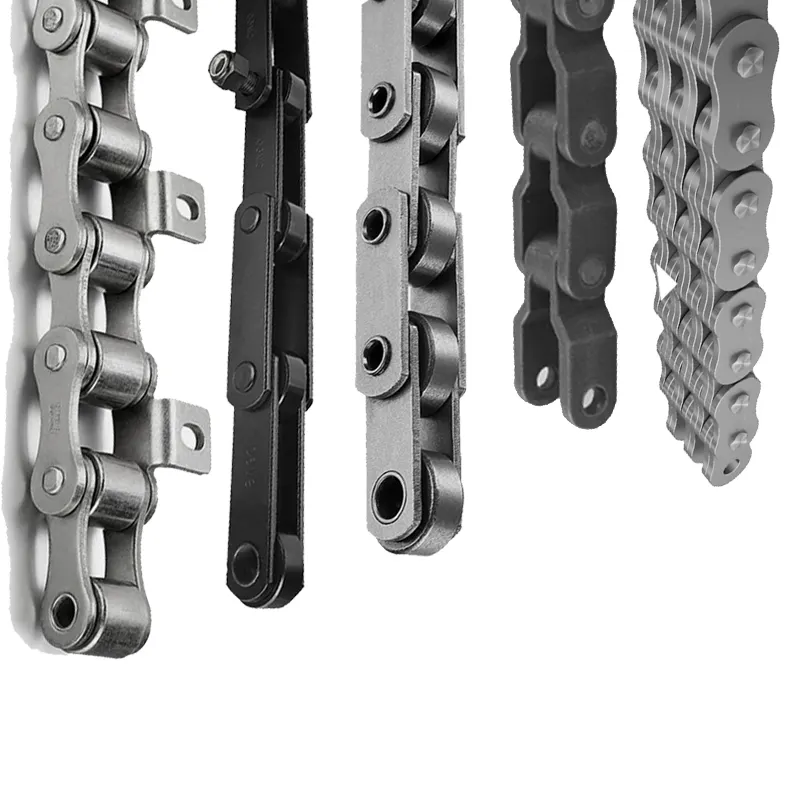 What are the advantages of using a silent chain in power transmission systems?
A silent chain, also known as an inverted tooth chain or silent synchronous chain, offers several advantages when used in power transmission systems. These advantages include:
– Quiet Operation: One of the main benefits of a silent chain is its ability to operate with minimal noise and vibration. The tooth profile and cushioning effect of the chain help reduce noise levels, making it ideal for applications where quiet operation is desired.
– High Load Capacity: Silent chains are designed to handle high loads and transmit power efficiently. The interlocking tooth design provides a large contact area, enabling the chain to withstand heavy loads without compromising performance.
– Accurate Speed and Position Control: Silent chains offer precise speed and position control due to their positive engagement with sprockets or pulleys. This makes them suitable for applications where precise timing and synchronization are crucial, such as in timing drives and conveyor systems.
– Wide Range of Speeds: Silent chains can operate at various speeds, from low to high, without compromising performance. They are capable of transmitting power effectively across a wide range of rotational speeds, making them versatile in different applications.
– Reliable Performance: Silent chains are known for their durability and long service life. They are designed to withstand demanding operating conditions, including high temperatures, shock loads, and harsh environments. Proper lubrication and maintenance further enhance their reliability and longevity.
– Backlash Elimination: Silent chains have minimal backlash, which refers to the play or movement between the teeth and sprockets/pulleys. This helps in maintaining accurate motion control and reduces the risk of positioning errors or fluctuations.
– Easy Installation and Maintenance: Silent chains are relatively easy to install and maintain. They can be easily replaced or repaired if necessary, reducing downtime and maintenance costs.
Overall, the advantages of using a silent chain in power transmission systems include quiet operation, high load capacity, precise speed control, reliability, versatility, and ease of installation and maintenance. These features make silent chains suitable for a wide range of applications, including automotive, industrial machinery, robotics, and more.



editor by CX 2023-09-11