Product Description
| | | | |
| --- | --- | --- | --- |
| Item | Silent Chain | Application | Machinery Parts |
| Surface Teatment | Self-color/Sand-blasted/Shot-peening | Brand | OEM |
| Package | Poly bag, then box, finally poly-wooden case | Port | Any sea port or airport in China |
| | |
| --- | --- |
| Standard or Nonstandard: | Standard |
| Application: | Textile Machinery, Garment Machinery, Conveyer Equipment, Packaging Machinery, Electric Cars, Motorcycle, Food Machinery, Marine, Mining Equipment, Agricultural Machinery, Car |
| Surface Treatment: | Polishing |
| Structure: | Silent Chain |
| Material: | Carbon Steel |
| Type: | Short Pitch Chain |
Samples:

US$ 5/Several Links

1 Several Links(Min.Order)

|
Request Sample
Customization:

Available

|

Customized Request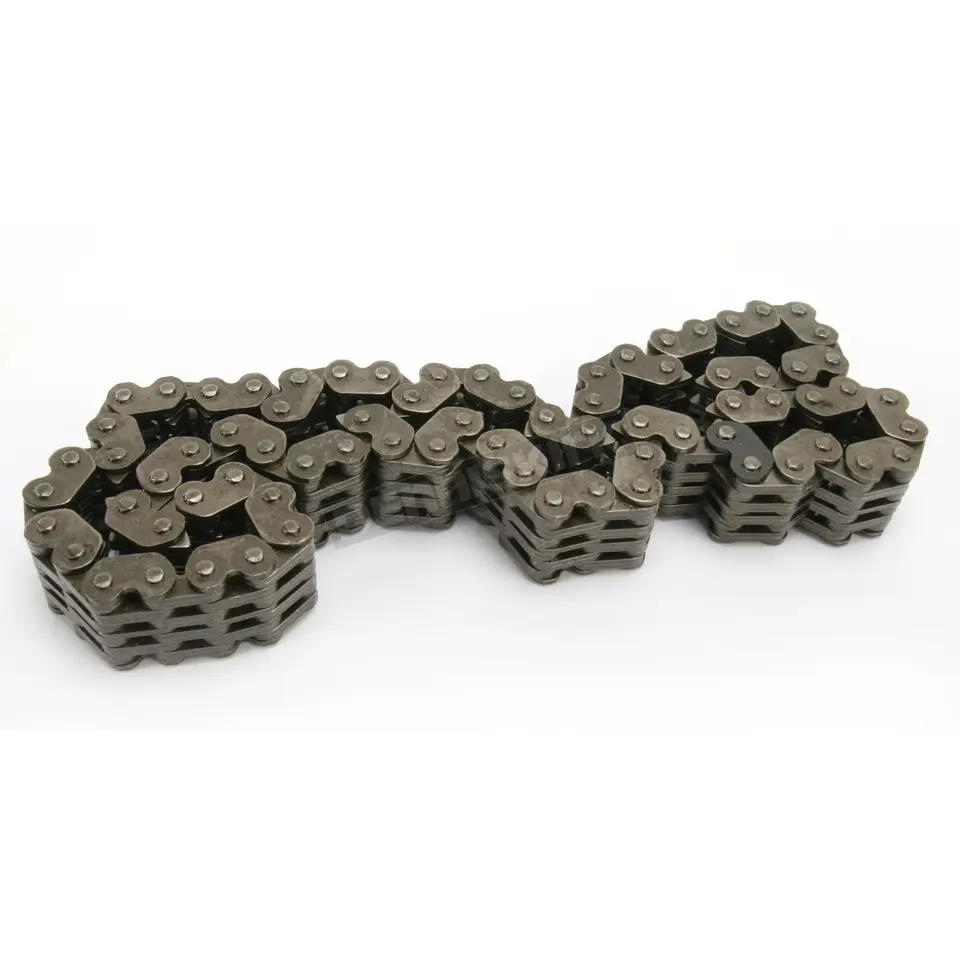 Can a silent chain be used in corrosive or abrasive environments?
A silent chain can be used in corrosive or abrasive environments, but the selection of the appropriate chain material is crucial to ensure its performance and longevity.
Corrosion-resistant materials:
– In corrosive environments where the chain is exposed to chemicals, moisture, or saltwater, it is essential to choose a silent chain made from corrosion-resistant materials.
– Stainless steel chains or chains with coatings or platings such as zinc or nickel are commonly used to provide excellent resistance against corrosion.
Abrasion-resistant materials:
– In abrasive environments where the chain may come into contact with abrasive particles or materials, it is important to select a silent chain with high abrasion resistance.
– Chains made from materials such as hardened steel or those with specialized coatings or surface treatments can withstand the abrasive wear.
– Additionally, using attachments or guides made from wear-resistant materials can further enhance the chain's durability in abrasive environments.
Regular maintenance:
– Even with corrosion-resistant or abrasion-resistant chains, regular maintenance is necessary to ensure their performance in harsh environments.
– Regular cleaning, inspection, and lubrication of the chain can help remove contaminants and reduce the potential for corrosion or wear.
– Promptly replacing any worn-out or damaged components is also important to prevent further deterioration.
By selecting the appropriate chain material and implementing regular maintenance practices, a silent chain can be effectively used in corrosive or abrasive environments, providing reliable and efficient operation.
How do you properly tension a silent chain?
Tensioning a silent chain correctly is essential for its optimal performance and longevity. Here are the steps to properly tension a silent chain:
1. Determine the Tensioning Method: Silent chains can be tensioned using either an adjustable tensioner or a fixed-position tensioner. The appropriate method depends on the specific chain design and the manufacturer's recommendations.
2. Set the Initial Tension: The initial tension should be set according to the manufacturer's guidelines or specifications. This typically involves applying a specific force or deflection to the chain to achieve the desired initial tension.
3. Allow for Break-In: After installing the chain and setting the initial tension, it is important to allow the chain to run for a break-in period. During this time, the chain will settle and stretch slightly, so it's crucial to recheck and readjust the tension after the break-in period.
4. Monitor and Adjust Tension: Regularly monitor the tension of the silent chain during operation. Over time, chains may experience wear or elongation, which can affect tension. Use appropriate tension measurement tools, such as tension gauges or deflection measurement methods, to check the tension periodically. If the tension deviates from the recommended range, adjust it accordingly.
5. Follow Manufacturer's Recommendations: Always refer to the manufacturer's guidelines and recommendations for tensioning the specific type of silent chain you are using. Each chain design may have unique requirements, so it's crucial to follow the manufacturer's instructions for optimal performance and chain life.
Proper tensioning ensures that the silent chain operates smoothly, minimizes wear, and prevents issues such as excessive noise, vibration, or premature failure. By following the manufacturer's guidelines and regularly checking and adjusting the tension, you can maintain the chain's performance and maximize its service life.
What is a silent chain and how does it work?
A silent chain, also known as an inverted tooth chain or silent synchronous chain, is a type of power transmission chain that is designed to operate with minimal noise and vibration. It is commonly used in applications where quiet operation is required, such as timing drives, conveyors, and machinery.
A silent chain consists of a series of interlocking links with specially shaped teeth. The links are typically made of metal, such as steel, and the teeth engage with corresponding sprockets or pulleys to transmit motion and power.
The unique design of a silent chain allows for smooth and efficient power transmission. The interlocking teeth engage and disengage with the sprockets or pulleys in a way that minimizes noise and vibration. This is achieved through the following mechanisms:
– Tooth Shape: The teeth of a silent chain are specially contoured to provide a smooth and quiet engagement with the sprockets. The tooth profile helps to distribute the load evenly and reduce impact and noise during operation.
– Cushioning Effect: Silent chains often incorporate elastomeric or plastic inserts between the links to dampen vibrations and reduce noise. These inserts act as shock absorbers, absorbing and dissipating the energy generated during engagement.
– Lubrication: Proper lubrication of the silent chain is essential to ensure smooth operation and minimize friction and wear. Lubricants help reduce noise and maintain the chain's performance and longevity.
Overall, the design of a silent chain aims to minimize noise, vibration, and backlash while providing reliable power transmission. This makes it suitable for applications where quiet operation is critical, such as in automotive engines, office equipment, and high-precision machinery.



editor by CX 2023-07-19